Maintaining a Healthy Relationship When Life Is in Lockdown, According to Your Zodiac Sign
Date 1/16/2023
Explore More: Astrology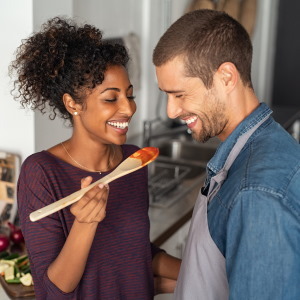 During the pandemic, both long-distance partners and those who live together are finding that this time has changed the way their relationship works. That's why you should use this time to understand each other more deeply. Learn how you can continue to grow in your relationship based on your zodiac sign. 
How to Strengthen Your Relationships
Regularly checking in on your relationship is an important part of ensuring both partners are happy. All couples, regardless of their physical proximity, can benefit from these tips to strengthen their relationship:
Learn each other's communication styles. Each partner has a different way of communicating. Each partner needs to experience a love language in their own way. Some people are more straightforward with what they say, while others may require you to read between the lines. By learning how your partner communicates, you can work to build your relationship and resolve potential conflict. 
Find activities you both enjoy. Even if you can't be together right now, there are fun virtual activities to try together. Watching a movie over video chat or playing online board games are great ways to strengthen your bond from afar. Likewise, if you're both stuck at home together, you should try a new activity like cooking, art projects, or a partner workout. 
Give each other space. Similar to how spending time together can strengthen relationships, so can spending time apart. When you're away from your partner, it gives you a chance to reflect on your relationship and miss them. This can make you feel more appreciation and gratitude while you are together.
Consider your zodiac signs. Becoming aware of each other's zodiac signs can help you choose activities that better suit each of your signs. For instance, if your partner is an Aries, they might enjoy more competitive games. Likewise, looking into astrology can help you have a better gauge of each other's personality and emotions. 
Aries
If there is an Aries in your relationship, you should find activities to satiate their enthusiastic spirit. Since Aries are known for being confident, now is the perfect time to finish a challenging DIY project at home. Long-distance couples could each try to complete a smaller project on their own, and compare their progress over video chat. Some fun project ideas include building a birdhouse, making a cross-stitch design, or tie-dying t-shirts.
Taurus
Those who fall under the Taurus sign tend to enjoy more relaxing and serene experiences. If you or your partner is a Taurus and you live together, draw a warm bath with lit candles to create a truly relaxing environment for each other. If you are staying apart, you could mail your partner bath salts, aromatherapy candles, or flowers to encourage them to take a moment to unwind.
Gemini
The curious Gemini can benefit from learning something new. Whether you're at home together or in a long-distance relationship, there are many ways to learn together. You could both create a list of podcasts you think the other person would enjoy. After each episode, you could discuss what you found interesting. You could do the same with books, articles, movies, documentaries, and television shows.
Cancer
Since Cancers tend to be highly intuitive and can sense others' energies, your relationship could benefit from honest and open communication. If you're in a partnership with a Cancer, make sure to regularly share your love for them so they feel confident and secure in your relationship. If you're apart from one another, consider sending a love note in the mail or virtually through email or a video chat. If you're a Cancer, take a few moments to share how much you love and care for your partner to demonstrate your security in the relationship.
Leo
Strengthen Leo's relationship by tapping into their creative prowess. You and your partner could try painting the same thing and compare the results. You could also embrace Leo's humorous nature by surprising each other with funny hand-drawn comic strips.
Virgo
Virgos are known for their hardworking and practical nature, which is why cooking could be a fun activity to try together. You or your Virgo is likely to appreciate the usefulness of practicing cooking techniques and experimenting with recipes. If you're spending the pandemic apart, you could swap recipes and enjoy eating the resulting meals over a video call. Make the call extra special by dressing up and lighting candles.
Libra
Libras are known as one of the most romantic zodiac signs. That's why if someone in your relationship is a Libra, you could benefit from a love tarot card reading. Whoever is the Libra may enjoy learning more about their love life and what's in store for it. Your reading could help you better understand how to grow as a couple.
Scorpio
If you or your partner are a Scorpio, strengthen your relationship by finding something you're both passionate about. For example, find a cause you both care about and ways to support it. Since Scorpios tend to be persistent, it's likely that they will work to make a real change. 
Sagittarius
This sign has a great sense of humor. Build your relationship by indulging in your solo or shared favorite stand-up comedians' specials and comedy television shows. Learning to laugh during these uncertain times can help you both stay upbeat.
Capricorn
Capricorns are known for their hard work ethics. Help you or your partner feel fulfilled by enrolling in an online course. You could help each other study for tests and review material in person or over the phone. Your shared willingness to help each other succeed shows you care about each other's personal growth. 
Aquarius
Due to their independence, Aquarius may benefit from some alone time. Give yourself or your partner a chance to try interesting and engaging activities on your own. When you reconvene, you'll have many exciting things to talk about.
Pisces
Since Pisces are a social zodiac sign, your relationship could benefit from virtual double dates. Find another couple or group of friends to have a virtual happy hour with. You could all chat or try a fun trivia challenge. This activity is possible for couples living together and those spending the pandemic apart. 
Although life may feel uncertain right now, there are many things you can do to strengthen your bonds with those you love deeply. Try an online psychic reading to find out more about how you can connect with your lover. By considering one another's zodiac signs, you can connect on a more celestial level.