8 Crystals that Will Help You Attract a Mate
Published Date 8/29/2016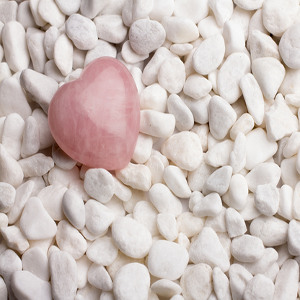 If you're looking for love, you know how difficult it often is to find the perfect mate. Bringing crystals into your life can make a huge difference, and an authentic psychic can provide further insight into what crystals do. These eight crystals build positive energy and attract love to you, helping you find that mate with whom you'll want to share your life.
Rose Quartz
When you're on the hunt for a stone that will invite and attract love into your life, rose quartz is ideal. This crystal will open your heart so you're ready to receive love. You'll also gain a love of the self, certainly an attractive quality for any potential mate.
Rhodocrosite
Likewise, to attract your perfect match, you must first learn to appreciate yourself. Rhodocrosite, with its white and pink marbling, helps you bring together different aspects of your personality so that you can learn that you deserve health, happiness, and of course love.
Malachite
If you've been hurt in love before, you may have trouble remaining open to new love. Malachite is great in this regard. It quickly clears painful memories to rid you of heartache. This paves the way for new love to come into your life, and it may just be a lifelong mate.
Rhodonite
Rhodonite helps in a similar way. As the Stone of Forgiveness, Rhodonite encourages you to release pain of a past relationship by giving you an attitude of forgiveness and love. Cleansing you of regret, hurt, and bitterness, the pink and black stone reminds you that love is painful while opening you to the power of new love.
Morganite
This crystal will help attract your mate to your life. Once the love is there, Morganite also helps support and grow this love. It promotes loving thoughts and actions, which then cuts down stress and allows you to enjoy your life.
Green Aventurine
Looking to build on your confidence and luck? Green Aventurine is the perfect crystal for the task. It's known as the Stone of Love and Luck, and as a result, you'll increase your luck at pulling in new love when you carry it with you. You'll also grow your confidence, making you even more attractive to a mate.
Citrine
In order to find the best mate for you, it's important that you first are confident in yourself. Citrine helps you to feel empowered and sure of yourself. With your newfound confidence and joy, you'll pull great people into your life. This Success Stone increases your personal power and enhances your success in everything, including love.
Larimar
When you're ready to find your soul mate, Larimar is the stone for you. This crystal attracts a soul mate to you. At the same time, it spills out peace and love and boosts communication in relationships, helping you to nurture your love once you have found it.
No matter why you're searching for love, crystals can help you. Taking part in a love tarot reading can provide you with even more insight into what crystals are best for you. By pushing away negative energies and memories, boosting personal confidence, and attracting luck and love, these crystals will help you find a mate for life.

To learn more about Crystal Energy and other related subjects, please visit our new Energy Healing Guide.