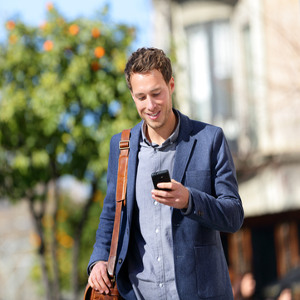 There are lots of ways to show your love on Valentine's Day, such as going out for a romantic dinner or giving a massage. Before the big day however, you want to let your lover know you're looking forward to the rendezvous. Sending a sexy text, or "sext," is a great way to get him in the mood. Here are six tips to help you write the perfect one.
Snap and Send Sexy Pictures
This is not about sending naked pictures of yourself. You want to keep the mystery of what he is missing out on. Arrange a bra and panties on the bed with the caption "Wanna take these off me?" Or take a picture of a body part and have him guess which one it is. He'll be dying to get home and find out.
Tell Him What You Want to Do to Him
It is good to give direct orders and be in charge. If he texts you saying "What's up?," respond back with something sinful like "I'm waiting for you to get home so I can rip those clothes off." You can also phone a psychic to help you with the words. It will be very unexpected, but your man will already think about leaving work before he even gets to the office.
Remind Him of His Skills
Men like to know they are good at what they do, so give him a boost of confidence. Say, "When you kiss my neck I lose control." Or if he's good at talking dirty, remind him by texting, "I miss your dirty play-on words. Tell me some now." He'll feel great knowing he can turn you on and be dying to work his skills on you very soon.
Those Emojis Can Get Steamy
Take it up a notch to more than a smiley face. Give a winking eye, or stick your tongue out. These emojis are both playful and steamy. Add in something hot like "You look good in your jeans today. ;)" If you don't have an emoji in mind, a live psychic chat can help you figure it out.
Bring Your Role Playing Fantasies to Life
If you are both into a popular show, adding lines from your favorite characters is a great way to sext without detailing all of your desires. If you both enjoy "Mad Men," then text him how you love it when Don Draper makes love to a woman. It will give your lover ideas to try out later.
Play Coy for a While
If your man is already sending you sexts, don't send one back right away. Playing subtle and coy is all about the chase. He wants you now, but can't have you, and it drives him crazy in a good way. Give him a few minutes to sweat before replying back.
Being with your lover on Valentine's Day gets romantic and sexy. But you don't have to wait until the big day to heat things up. These six tips will get you sending sexts in no time to your lover.