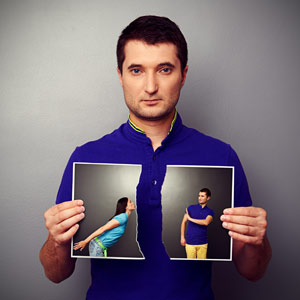 Sometimes love deserves a second chance and sometimes it doesn't. Are you contemplating getting back with your ex? Take a look at these four pros and cons to consider before making your choice.
Con: It's Hard to Build Trust in the Relationship Again
One of the most important aspects of a happy and healthy relationship is trust. Most people break up because trust has been lost due to a boundary violation of some kind. This might be something serious like cheating or something as simple as lying about daily activities. The hard part about getting back together with your ex after trust has been lost is that it is hard to regain. It can even take years before the relationship is back where it used to be. Plus, there's always that chance that you might be hurt again.
Pro: You Don't Have to Start Fresh with a New Relationship
Memories and good times are what life is all about. However, when a relationship ends, it's hard to want to look back and remember. While you can never make your relationship truly like it used to be, getting back together with your ex means that you don't have to start fresh on the dating scene again. A love psychic can help you make the decision of whether to get back together with your ex, as well as admit when the relationship is a lost cause.
Con: You Won't Have the Opportunity to Experience Other Relationships
There's comfort in familiarity, but it doesn't provide the opportunity to grow and experience new things. If you are in a constant cycle of breaking up and getting back together with your ex, you never have time to date other people. How can you truly know that your ex is the person you're supposed to be with if you haven't taken the opportunity to date others? Plus, chances are that neither one of you has truly changed, so the relationship will just end in a breakup again.
Pro: You Both Learned from Your Mistakes
Breakups happen for all sorts of reasons, but sometimes they're just the result of a misunderstanding. When you and your ex realize that you broke up for a silly reason, it might be worth a shot to get back together. There's no guarantee that things will work out in the end, but mistakes and misunderstandings do happen. You can take the breakup as a learning experience to make changes to your relationship to prevent a breakup in the future. Nobody is perfect and you both have to be willing to forgive and forget freely to make a relationship work.
These are just a few of the pros and cons of getting back together with your ex. You'll have to carefully analyze your situation to see whether you should try the relationship again or not. Of course, there are times when it is never appropriate to get back together, such as in mentally and physically abusive relationships. However, sometimes the breakup was just the result of a misunderstanding and it's worth another shot. Get the help of an online psychic if you're not sure what to do.