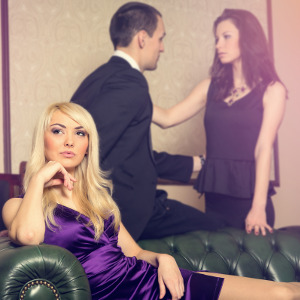 From young Hester Prynne of "The Scarlet Letter" to scandals involving celebrities like Tiger Woods and Ashton Kutcher, women often receive the brunt of the scorn and derision when it comes to their sexuality. This includes the caricature of the other woman, someone who engages in a relationship with a man who has already committed to someone else.
In the real world, however, could there be a positive side to acting as the other woman? Do these stories end happily?
Some Men Cheat on Their Wives as an Experiment
Men may want to know whether they are actually missing something outside the marriage. Maybe they feel stifled in their current relationships or perhaps they fear they made the wrong choice with their existing partners.
Such an experiment results in one of three outcomes:
He realizes he loves his wife and returns to her.
He continues both relationships simultaneously, often to the detriment of each.
He discovers he was missing something and leaves his current partner in favor of the new.
What if it's the third? In some cases, being the other woman results in a profoundly positive and passionate relationship. Book a psychic chat for guidance on your relationship if you're the other woman and you don't know where it's heading.
You Could Awaken New Feelings in Him
A toxic relationship or marriage can have several negative consequences for both partners. A man might feel subdued, numb, or even severely depressed because his marriage is truly in jeopardy. Spending time with the other woman might result in an emotional and spiritual awakening and help him see what he's been missing in life.
You Could Provide Much-Needed Encouragement
Affairs are often passionate and urgent, leading both partners to consider new ideas in other aspects of their lives. You might offer your partner the gift of encouragement and praise. As you impart to him the knowledge that he can seek success in other areas of his life, he might become increasingly drawn to you rather than his primary partner.
You Could Make an Emotional Connection
Research shows that, contrary to popular belief, affairs concern more than sexual gratification. In fact, many people find they can love two people at once and that they enjoy deeper emotional connections to the other women.
If you're involved with a married or attached man, determine whether your time together extends beyond the physical. Do you laugh, challenge one another or talk about important issues?
You Could Help Him Realize What He Wants
Sometimes men who cheat on their spouses don't know what they want. They're confused; they know only that they aren't happy. As the other woman, you can help him discover his true path. Recommend he solicit online psychic readings for guidance and engage him in conversation about his future. Whether he decides he wants you or his primary partner, at least you'll help him make up his mind.
While adultery can hurt the feelings of everyone involved, it sometimes turns out well for the other woman. The only way to bring about this conclusion is to maintain honesty — both with yourself and with your partner.