How Can a Psychic Help Me With Dating Apps? by Psychic Maryjane
Published Date 8/14/2021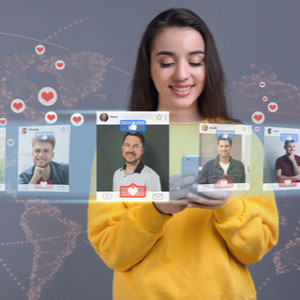 Dating websites and apps can be overwhelming to say the least. So many pictures, so many bios, so much swiping. Your brain instantly computing judgement, doubt or even fantasizing "this must be the one for me!"
As a psychic and card reader one would think it would be an easy situation for me. In a way, it was. though I typically do not do cards on myself. I do listen to my body sensations and rely on the first thought that enters my brain. That being said, I navigated the dating site without doing the cards or even focusing on images I get. It did not go well. I was even more overwhelmed and disappointed. I found people grossly misrepresenting themselves. Old outdated photos, saying they were divorced when they were not, stating they had illustrious careers and it just not being truth. I was not focused on looks or material I was simply searching for authenticity and decency.
It's All About Validation
I then broke my rule and started to get serious. I narrowed down people of interest. I then did the cards and jotted down "visions and words" I saw. Here was the next dilemma. If I saw something that would be a potential red flag, would I still engage in conversation? I decided (as a form of validation) that yes, yes I would.
What happened next? Validation. If I saw, let's say a person in bed, not feeling well, I would take note. On two occasions conversations were going well. Interesting and engaging. Then nothing. In each case weeks later, I received messages apologizing for their absence and each stated their diagnosis.
*Note: I do not provide medical health readings but seeing someone in bed can mean having a bad day to something more serious.
I started to get myself in trouble. I would see images of people passed, living situations and other odd information. I will stop it right here (as to not get too personal) but I think I had men running to the hills. Only then I did the cards or focused on images if I felt there was a strong need to. Our intuition can be all we need if we hone in on that skill. Now for what this article is really about…
How Can A Psychic Help You in Your Dating Journey?
Here is what I have done for many clients and some great tips for you and your journey.
Write down all the names of the people you are interested in.
Make sure you are ready to take notes! Ask your advisor for a quick simple keyword on each name you ask.
Be open to what they see. For example, I could see.... still married, argumentative, money problems, loving, kind, lonely, etc.
This is all a very quick process and will allow you to gain some added information on those you want to engage in a conversation. Naturally this can continue AFTER you go on a date and another call can continue the process. Be very specific with your questions to help the advisor deliver quick concise answers for you.
If you are navigating the dating journey now, I send you prayers and also my advice. Be cautious, listen to your inner voice, how your body reacts and most importantly (again, from my experience) do not let anyone pressure you. You make the rules. It is your body, your life and your precious time. Have fun and be aware of how the other person makes you feel. How do you feel after you hang up the phone or have a messaging session? What feelings are you sensing? These are the clues that can help you down the road to finding a wonderful mate.
Maryjane x3638

Get a Reading with MaryJane x3638
MaryJane is a psychic medium and a card reader. She finds joy in helping others navigate their journey however that journey may be. She is committed to helping people start over after loss and more than willing to help others navigate the dating sites!