---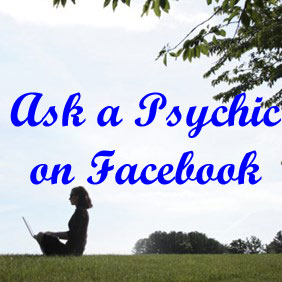 They say nothing in life is free, but did you know that over on our
Psychic Source Facebook page
, we give away free Psychic Readings to lucky fans all the time? It's true, you never know when, but if you follow our page, we hold special "Ask a Psychic" events at random times throughout the month. When you see the post go live, respond with the question you want our psychic to answer, and one lucky winner will be chosen at random to win! We will post the winner and their psychic reading a few days later on our page.

To make it easier to remember, all December long we will have a new "Ask a Psychic" event happening each Friday on Facebook.

Check back Friday December 15th, 22nd and 29th on our Facebook page and look for your chance to win!

To show you what you can expect, below are two examples of readings given to a pair of our recent winners.

Psychic Paige Responds to Amber:

Question:
My name is Amber (02/01/60), will I ever find true love? Or is it my ex-boyfriend Vince (07/31/52), we have been on and off for the past 2 years, we are off now. If it is him will we get back together? If it is not him when will I meet my true love? Thank you. Love and Light.

Answer:
Hi Amber,

Thank you so much for your question. I would like to address the first part of your question "Will I ever find true love?"

Your question is one that we have all asked ourselves about finding "true love." You will find true love, of course!! But true love is an inside job first and foremost and the more you love yourself… the more it will radiate out as if you are a beaming light shining the way for others to see your sparkle! And that is what attracts others into our circle of vibrating at the same frequency (think of emitting rays from the inside….out). The more you can say to yourself "I am love" almost like a mantra the more others will feel it. Try it as an experiment and walk through a grocery store or department store and keep repeating "I am love" in your thoughts and watch and see what happens! It works… I have done it myself!

I do feel you and Vince will once again reconnect. There is a synchronicity between the two of you which is undeniable. I know that there has been a lot of growth on your part and you are stronger, more vibrant and beginning to understand the issues that were triggers for you in relationships (i.e. insecurity, trust, and abandonment) but you are now becoming more aware of your own power.

While I feel Vince returning he is still allowing different distractions to take his focus off relationship and you for the moment. In the next little while, Vince will have an "aha moment" and begin to understand what relationship means with you. Vince will return, and he will stay in the relationship because of his own growth and understanding of himself and missing the qualities of not having you in his life. He will see the difference in you as you exude confidence in yourself.

In the meantime, I would continue focusing on you! When you and Vince reconnect your relationship with him will be on an entirely different and committed level to each other. There will be plans for the future which you will both discuss!

Sending you many blessings in Love and Light,
Paige x7868


Psychic Lily Response to Anita:

Question:
Hello Lily!!! I would like to know I'm talking to a guy I'm the military for some time now could you talk is he right one for me?? DOB 11-20-1969

Answer:
Greetings Anita! Your Angels and Guides have revealed that YES you indeed are communicating with the love of your life! And, what is even more beautiful is the divine timing is exact and perfect for you two, if desired, to be married in the Summer of 2018. The 11-20-69 Birthday highly indicates you two are soul mates and genuine life partners. The loving and nurturing nature of the sacred number 2 in the 20th and the life path of the sacred number 11 is a double blessing for you both; the combination of the 2 and the 11 magnify both of your numerological inclinations for a long term and very tender, compassionate and understanding relationship.

Also, Anita, you both will always experience the divine fire from your hearts and souls on a daily basis that will allow both of you to expand your love out into the world and helping others in a very deep and meaningful way for the rest of your lives. So, your blessed and sacred soul mate connection will benefit the world as long as you both are on the planet. Others will be healed and elevated by you and your partner's love. You two will be a living example of what real love is and how to live a partnership. Your Angels and Guides also indicate the two of you, at some point in your lives as a team, might run and serve in public office or on a city council. If you both chose not to do that, you two will definitely be asked or recruited by more than one group several times. Support from many family members is also indicate for both for life as well. So, Anita, look for 2018 to be a very magical and yet practical year for you both; y'all will be headed for a very wonderful life time commitment that will bring, laughter, joy and profound meaning to both, your families and the world! Your sacred union is destiny from God in a good way not in a bad way. Oh, and you two, by choice, will travel a lot for fun and helping others.

Happy Trails! Love and Light to both!
Lily
You could be next, but you must
like us on Facebook
. Make sure to follow our page for your chance to "Ask a Psychic." Then check back on Facebook on Friday, December 15th, 22nd and 29th, and all throughout the coming year for your chances to Ask a Psychic and win a free psychic reading!
Share This Page
---
Leave A Comment
You must be logged in to leave a comment. click here to login
Comments