Over the years I have created many spiritual altars both inside and outside my home. Currently, I have three different altars that serve different purposes in my daily life. One is where I do yoga and meditation. The second altar is where I have my different sacred candles and do my prayer work for clients, friends, and family. Lastly, I have an outdoor altar in my fairy garden that represents the elementals and mother nature. 

What is most important about creating your altar table is that it is special to you and is a place you feel empowered and joyful when spending time there. At home altars can accommodate a wide range of faiths, you do not need to be "woo woo" spiritual to benefit from one. You may actually already have an altar in place in your home without even realizing it. Maybe there is a corner in your room where you have gathered some of your favorite trinkets or a place on a shelf that houses your crystals and feathers and when you walk by you feel a charge of energy. This is a beautiful place to build upon and expand.
I will take you through a step-by-step journey on how to create your own spiritual alters for beginners. To me there is no real right or wrong way to do so, but for those of you who are brand new to this it will be helpful as a guidepost. An altar table can be a formal place for religious worship, ritual, and prayer. However, it can also be an intentional space in your room or home for meditation, contemplation, gratitude, and reflection. Having an altar in your home is one way to connect and communicate with the Divine daily, a place to light a candle and some incense and do your morning devotional or evening gratitude journal. 
Having a sacred altar table in your home can be the place of sanctuary you go to each day to regroup, refresh, and renew. Your altar is an outer representation of your inner essence. As within, so without. It is a way of honoring yourself by having a place that is solely yours and represents your beliefs and ideas. Over time it can shift and change with you and your journey, adding to it or taking away something that no longer is necessary. Just recently I went to Rocamadour, France to the Chapelle Notre-Dame and walked the 216 steps that take you to the sanctuary where the statue of the Black Madonna has been since the 12th century. Our lady of Rocamadour is believed to be linked to many healings and miracles. I felt such a strong connection to the pilgrimage and decided to purchase a small statue of the Madonna for my altar at home. I often collect feathers and stones that end up on one of my spiritual altar tables. It is as enjoyable to gather the items for your altar as it is to experience the mystical energy when spending time there. 
Creating Your Home Altar 

1. Choose a Place for Your Altar Table
The beauty of your altar is that it can be wherever you feel drawn to create it. It can be as elaborate as an entire room or a windowsill. Over the years I have found beautiful small tables at antique stores and flea markets that have become my altar table in a corner of a room. It is nice to have it somewhere private without clutter, excess noise, and interruption. I have also had altars all over my home that others have had the opportunity to see and experience as well. If you are drawn to nature and have a space outside to create an altar table that can be amazing too. The main thing is to make sure your home altar is in a space that feels natural to you, somewhere you want to spend time and can do so comfortably
2. Setting an Intention for Your Home Altar
Perhaps you are drawn to creating an altar for meditation and prayer or to honor your ancestor's or a sacred space to create ceremony and ritual. Take the time to journal, pray and meditate on what an altar means to you. When you decide to install an altar in your home it means you have listened to your inner self to elevate your spiritual beliefs into the physical. Some of the intentions I have had for my altars over the years range from gaining inspiration, healing, abundance, and love. The most important altar I have in my home right now is my candle blessing altar, this is where I do my final prayer work of the day and light candles for family, friends and clients based upon what they are needing spiritual healing on.  So again, this is your altar and allow yourself to set whatever intentions feel right in your heart and soul.

3. Gather Tools and Objects for Your Home Altar
Truly the sky's the limit to what you place on your altar. I always go with what speaks to my heart. A beautiful candle, incense, crystals and perhaps something special to you that represents your own spiritual growth is a great place to start.
Here is a list of things that you might consider:
I also like to represent the four elements on my altar: air, water, fire and earth. As shared earlier, over time you can add things and change out things that are aligned with your spiritual growth or new intentions for your sacred table altar.
4. Cleaning and Charging Your Altar Table
Once your altar is set up and arranged it is now time to cleanse and smudge it. Use one or more of the following to purify and bless your space: sage, frankincense, palo santo or rosemary.  I will light the end of the sage stick and hold it in my hand and move it around the room and the altar allowing the smoke to fill the area. I usually say a prayer or recite a mantra while doing so. Smudging is a way to get rid of stagnant and negative energy and allow the blessings of Spirit to connect with you and your sacred space. Normally I will smudge once a week unless I am doing a ritual or ceremony in conjunction with a holiday or full moon. You can do it daily if you desire, especially if you are using your altar as a place of worship or devotion.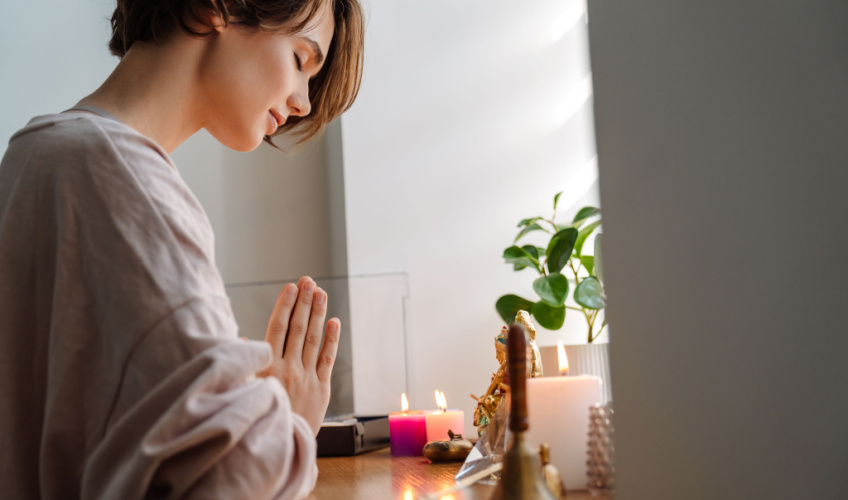 5. What Do I Do with My Home Altar?
The most important part of creating an altar table is giving it life. With your intention, your home altar becomes a special place at which you experience your personal daily rituals. I use my altar in the morning for a daily devotional and meditation. Throughout the day I may go there and chant or pray. In the evening I reflect on my day, what I am grateful for and do my prayer work and candle blessings.
I hope you enjoy your home altar as much as I do mine and may your sacred space keep you connected to the daily intentions you set for your day and your life. I wish you peace, love, inner wisdom, and abundance.
Blessings and gratitude,
Angelica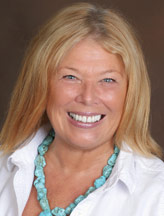 Get a Reading with Angelica x9393
Angelica has been a teacher of Quantum Mysticism for over 20 years. She leads empowerment workshops and retreats with the focus on self love, self confidence and co creating a life filled with miracles. She has been doing psychic readings for over 35 years. Angelica uses the Goddess energy and archetypes to tap into her clients and reveal where energy is blocked and how to use tools to get the mind/body/spirit in alignment.