Connecting The Tarot and Numerology with Your Tarot Birth Card by Psychic Marlo
Date 1/12/2023
Explore More: Tarot Numerology
Each and every one of us has a unique Tarot Birth Card that's meaning can support us in learning more about ourselves and how we make decisions. Birth Cards in Tarot comes from the use of Numerology, (a self-realizing number system created by the philosopher and mathematician Pythagoras) that has been widely applied to the use of Tarot. Calculating this number only requires knowing your birth date and breaking down any numbers to get down to a single primary number. Let's start by calculating your Birth Card Number.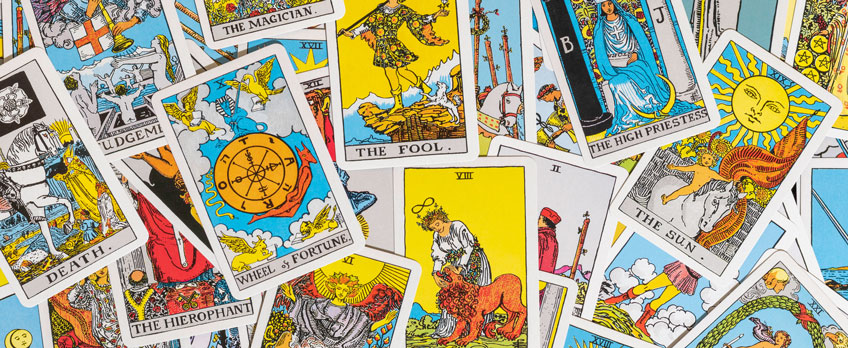 How to Calculate Your Birth Card Number
Here is an example you can use to determine how to calculate your birth number.
1. Write out your full birth date including the full year like this: 10/25/1980
2. Add all the numbers up: 1 + 0 + 2 + 5 + 1 + 9 + 8 + 0 = 26
3. Take this number and reduce it to a single digit by adding it up again:  2 + 6 = 8
4. Your Birth Number is 8!
Tarot Birth Card Numbers
Now that you have your Birth Number, you may be asking how do you find your birth card in a Tarot Deck?  It's simple to find the corresponding Major Arcana Tarot Card. Look down the list below to find your number and its corresponding Tarot card and meaning. If your initial result above was between 10-21 before reducing it to a single digit, stay tuned for even more about your additional Tarot Birth Card Numbers!
Extra Tarot Birth Card Numbers
As I mentioned above, there are actually 22 Cards in the Major Arcana. The numbering system starts with a Card 0 – The Fool, so that one is impossible to achieve when adding and reducing your digits. But it is possible that your original number corresponds with another Major Arcana Card that is not a primary number between 1 - 9. For example, someone born on 12/22/2003, when you do the math of (1 + 2 + 2 + 2 + 2 + 0 + 0 + 3 = 12), you discover your extra card. In Tarot, there is a Major Arcana card that aligns with 12, The Hanged Man.
What does this mean?
It means that you will take your birth card number of The Empress (1 + 2 = 3) but also look to 12 The Hanged Man as advice on how to work better with The Empress.
You may even have a third card if you come out with either of the numbers 19, 20 or 21! So like above, take your birth card number along with the extra card (or cards) to help paint a larger picture.
Breakdown of the remaining extra Major Arcana results and their meanings:
Even if you do not have a birth number that corresponds to the larger numbered Arcana cards don't worry, that message is still aligned for you as these are cards that directly support each other.
How Can You Work with Your Tarot Birth Card?
As you read the description above for your Tarot Birth Card(s) how does it make you feel? Do you see yourself in this card? In the description for each card, do you feel you align with habits, viewpoints, or interests that you currently have or have struggled with?
This can be a beautiful lifelong investigation to further understand the complexity and depth of these cards. If you need support, seek out more knowledge about these cards and you will begin to see this may have been a place of interest for you for some time, but it may have been difficult to understand until now.
You can learn more by researching the card online, in tarot books or even reaching out to a Psychic Source Advisor to help you evaluate and understand the card more. Each reader will have an insightful interpretation of the card which can help you further understand its messages and in turn, yourself. The more you investigate, the more you will be able to play to your strengths and release any ways people have expected you to be. This will ultimately allow you to be more in tune with your authentic way of being.
Lastly, in addition to a Tarot Birth Card, you can learn more about how to discover your Tarot Card for the Year using a similar calculation. I explore that in my article How to Calculate Your Tarot Card for the Year and Other Important Dates. 

Get a Reading with Marlo x4659
Marlo is a Psychic with a passion for Tarot Reading and Astrology. She holds a Masters Degree in Art from an Ivy League school and is a certified Spiritual Coach with 13 years of professional psychic reading experience—she even has read for several celebrities! She is a poet, author, and performer and in her spare time runs covens and community circles for women to heal and overcome their difficulties.