Want to Get Lucky? Add These Chinese Lucky Numbers to Your Life by Psychic Lacey
Date 3/16/2023
Explore More: Luck Numerology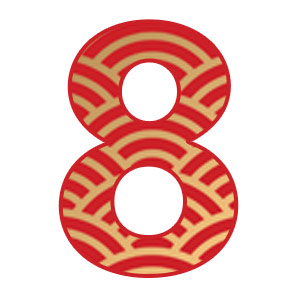 In Traditional Chinese history, lucky numbers have always played a very significant part in Chinese culture.  The foundation is based on numerology, which signifies the importance of each number and how it affects a person's personal life. This creates an avenue to create good luck and protection from bad luck.
The Chinese culture understood the importance of numbers and knows that numbers carry a vibration and energy, rooted within the language and symbolism. Hence why they invest in numbers as they understand the importance. In 2020 a Chinese mobile number with 5 digits of 8's sold for 2.25 million yuan ($324,184) and a Hangzhou man sold his license plate, A88888 for 1.12 million yuan. It does create a status of wealth among influential and wealthy citizens.  You'll discover the significance of the number 8 a little further down in this article.
In Feng-shui, the same principles are introduced as each number has a meaning which enhances the energy of a house, building, land, or office. In China, numbers are seen as the most important part of the culture, and they invest large sums of money to ensure influential numbers are bought for their business to ensure wealth, happiness, and prosperity.
In the Western world, numbers carry superstitious influence or significance and favoritism. Chinese emperors used Chinese numbers to implement change or to date events and create structures. In the Eastern world, the rich history and culture are still to this day used among all. The belief has never changed or altered throughout society or generations. Much like the I-Ching, based on numbers, a child in China will have a life map created to indicate their life path and future events of their soul path based on their date of birth.
Every year with the new Chinese Zodiac, lucky numbers are given to follow for the year ahead to bring in prosperity and abundance. Whether we believe in the tradition of the Eastern world or not, the focus should rather be on the energy of a number and how it affects us in a positive way, bringing in good luck and wealth.
Numbers and their Meanings: How to Read the Chinese Numbers
The Chinese numbers 1, 2, 3, 6 and 8 in any combination will always sound lucky. It is important that numbers are balanced with yin and yang energy.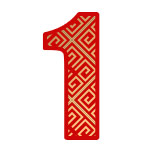 Chinese Number 1
In Chinese numbers or numerology, the number 1 is seen as the beginning of a new cycle, signifying new beginnings. This also signifies birth and the start of a start of something new. The number 1 brings in blessings, inviting the possibility of change with what you wish to manifest. When the number 1 appears, it does indicate your path has changed and you can use the energy to bring in new energy to start a new life path, career, or relationship. The number 1 is also seen with auspicious events all over the world.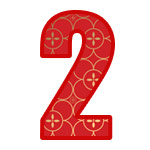 Chinese Number 2
The number 2 in Chinese numbers indicates the balance of two forces. This is based on the principle of yin and yang. Indicating a phase of balance that will come into your home, personal, or business arena. This number 2 is very sought after as the energy of balance is highly influential and does indicate that the balance of yin and yang will bring peace and harmony. This number is also seen as a signal of defining love in relationships and shows a happy marriage with balance from both sides. During celebrations in China, decorations are placed in sets of 2 pairs. This indicates that you will receive double happiness, which presents a growth cycle and double blessings. If a person moves through an unfortunate time, the number 2 is avoided to minimize repeated circumstances.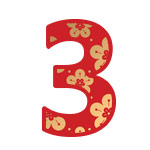 Chinese Number 3
The Chinese number 3 signifies the attraction of good fortune. It brings in the mystic energy of success and that you will attract good luck, which is a very important concept in Feng-shui and Chinese history. Double digits of 3 are even more sought after. A man in mainland China paid $215,000 for a mobile number with multiple digits of 3. The Chinese number 3 is often seen in multiples throughout history based on events and written text. Wisdom and stability are often associated with this number.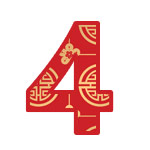 Chinese Number 4 – The Bad Luck Number
The Chinese number 4 four indicates bad luck, death, and destruction. This number is highly avoided throughout China and often missing from buildings, homes, and businesses (not unlike the number 13 in the United States). Although, this number is often dismissed, one can notice that it is very much used in Chinese history and beliefs. The number 4 is used in Chinese culture by means of the 4 elements, 4 seasons, 4 directions and 4 inventions of ancient China.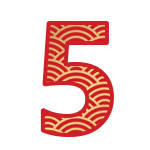 Chinese Number 5
The Chinese number 5 indicates a radical change in a person's life or business. The 5 in numerology is often used in Traditional Chinese Medicine of the 5 elements: water, earth, fire, metal, and wood. In numerology, the number 5 is seen as a positive number that can pull from the strengths of other numbers to make it stronger and more stable. The number 5 is not bound by boundaries but rather freedom.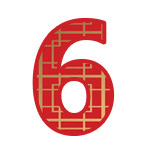 Chinese Number 6
The Chinese number 6 is a fortunate number. Within Chinese culture, the number 6 multiplied indicates that a person is well-off and set for life. At the age of 66, the person is celebrated for the milestone and the blessing of longevity. The sound of the number 6 in Chinese is smooth and flowing which indicates the person's life will be smooth and they will attract flow.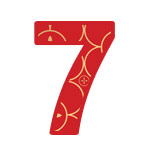 Chinese Number 7
The Chinese number 7 indicates harmony and balance. It is the union of yin and yang and the five elements. The Taoist meaning of the Chinese number 7 is linked with kindness and beauty. Throughout Chinese history the number 7 is linked with many historic tales and cultural events. The number 7 indicates the balance of life, and it will attract harmony on your life path and manifest as kindness.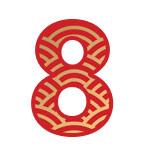 Chinese Number 8 – The Luckiest Number
In the Chinese language, the word Ba means 8 which as has the same sound as Fa which means fortune. One of the luckiest numbers and the most prosperous, the number 8 brings in blessings and abundance. In China, this number is sought after, and millions can be spent to acquire the best numbers for a house, license plate, or building. There is a belief that this number brings you wealth from all the corners of the world in a very short time.
Featured events are often created by using the number 8 for the month, the 8th of a day, and the 8th of the hour it starts. This indicates good luck for the event that will commence on this date and time. Double digits of 88 or 888 increase the chances of great success and wealth. In the Chinese language, it is meant as: "wealth, wealth" or "wealth, wealth, wealth". In regard to events and celebrations, the family will ensure that the best times and dates are secured using the Chinese number 8.
Something you may notice if you like to frequent casinos, in the United States the number 7 is often featured on slot machines as a high-value symbol and landing 7-7-7 usually indicates a winning combination.  However, in Asian-themed slot machines, it's the number 8 that is your lucky digit to root for.  Chinese-themed slot machines often have 8 as a symbol, with bets available in increments of 88 cents and other prizes and events centered around the number 8 or 88 or 888 within the game.  So, when playing these games of chance, root for 8!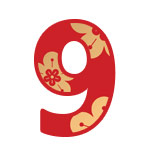 Chinese Number 9
The Chinese number 9 brings in the energy of completeness and everlasting. On Valentine's Day, 99 roses are given to a person to ensure longevity or eternal love. When a homeowner buys a home with the number 9, it means the person will be there long-term or even indefinitely. It is a sign of stability and a solid foundation for the home and those who become residents.  The Chinese number 9 is also used to show that a cycle is complete and that there is flow in all areas of your life.
Chinese Number 0
The Chinese number zero signifies a whole and even number which makes this a very lucky or fortunate digit. When added with lucky numbers it enhances the energy and helps the person to attract more prosperity, luck, happiness, and longevity.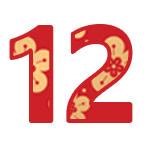 Chinese Number 12
The number 12 in Chinese numbers is often used in accordance with the 12 zodiac signs over 12 years, and the 12 pathway meridian channels in the body according to TCM (Traditional Chinese Medicine). The number 12 is also used for the 12 months and is based on the balance of yin - female and yang - male.
Chinese Lucky Numbers Used with the Chinese Zodiac
Chinese Astrology also has lucky numbers for each Chinese Zodiac Sign. For example, if you are reading this during the year of the Tiger or Money, due to the number 8, it will be seen as a positive, good year, bringing in strength and power.
Chinese Zodiac Signs and Their Lucky Numbers
The Rat: Chinese lucky number 3
Ox: Chinese lucky number 9
Tiger: Chinese lucky number 8
Dragon: Chinese lucky number 6
Rabbit: Chinese lucky number 5
Snake: Chinese lucky number 2
Horse: Chinese lucky number 3
Goat: Chinese lucky number 7
Monkey: Chinese lucky number 8
Rooster: Chinese lucky number 3
Dog: Chinese lucky number 4
Pig: Chinese lucky number 1
Numbers have a significant effect on our lives, we encounter them everywhere and we observe them daily in everything we do. It is important that we do understand that words and numbers have meaning, but our beliefs will influence the outcome. Eastern and Western beliefs are different, but you are allowed to borrow and learn from other cultures. Superstition and education often blind the positive outcome and proof of other systems or cultural beliefs.
Traditional Chinese Medicine and Chinese history of 3000BC have created concrete evidence of the rich traditional culture and beliefs manifested within the lives of generations. This does create stability and a belief that the energy and vibration are a solid foundation that has been followed without interruption.
Start your journey today, to learn more and implement Chinese lucky numbers in your home, business, and personal life. Education is wisdom and wisdom is our guide.
Many blessings,
Psychic Lacey 3635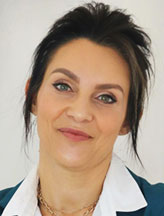 Get a Reading with Lacey x3635
Lacey's has a master's degree in Traditional Chinese Medicine and Acupuncture and has studied Chinese face reading, Feng Shui and I-Ching to help and assist clients in all parts of their lives. Lacey is a Clairsentient Empath and Energy Healer and uses a combination of TCM and spiritual healing to guide and support her clients.   Lacey is excited to help and guide you step by step on your life path.