Turning to a Psychic When You Can't See a Light at the End of the Tunnel by Psychic Izzy
Date 9/29/2021
Explore More: Mental Health and Illness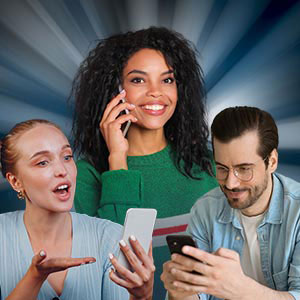 We are living in ever-changing, uncertain times, as you know. And almost everything in life is being magnified and exaggerated beyond our comfort zone. If you, like many, are experiencing a variety of unexpected curve balls thrown your way, you are likely feeling scared, confused and exhausted. And these feelings usually stop us, as if we are frozen, because we do not know what to think or what to do.
Uncertainty
When you are stuck and in limbo-mode, the prevailing feeling is the inability to move forward or act because of all the uncertainty - yet the world is moving on without you. Yikes! Never fear, Psychic Source is here to support you. Reach out in the manner that suits you best. We are available 24 hours a day, 365 days a year. Reach out to us by phone, chat or video. We offer a variety of options to suit your needs and privacy concerns. Psychic Source advisors can answer specific questions or can support you with guidance and direction that serves you best. We also have an amazing new direct messaging service where you can reach us for a quick Q&A, even when we are logged off. 
It may be time to reach out for a psychic reading if you are you experiencing any of these feelings.
overwhelmed
anxious
stressed
grieving
a loss of hope
fear
not trusting in yourself or others
inability or uncertainty around taking action
sleepless nights
getting stuck in past events or overthinking future events
When you experience these or other life wake-up calls that create doubt within you, that is an ideal time to reach out to one of our talented and guided psychic advisors. You can reach out to one of your favorite psychic readers or check out the profiles to learn more about new and existing souls you may be called to connect with so they can support your journey.
Power of a Psychic's Birds-Eye View
We use of skills, abilities and experience to support you and your situation with neutrality and universal wisdom. Each of our over 300 psychic advisors was hand-picked from the very best to serve you. We are a diverse group that bring our psychic talents and gifts forward to serve you. When you speak with one of our top-notch advisors at Psychic Source, it is completely private, just between you and your advisor.
Psychic Tools and Gifts We Use
Interpret Your Energy
Intuition and Experience
Reiki
Dowsing
and more including a Psychic Reading without any tools…
Growth and Expansion Follows Release and Letting Go
Regardless of your personal beliefs and life choices, we are all being invited to drop what no longer serves us and invite in new experiences and directions. Listen with your heart and soul, this is real! Even if this sounds great as a concept, it can be intimidating to turn in into reality. We are here to assist you on your journey - one step at a time. Consider starting with a sense of surrender to the universe and ask for help and guidance from all your sources. Together, we can do this. It takes courage, dropping stuck patterns, and acting on the necessary steps.
Validation and Direction
Whether you are searching for clarity and direction or wanting confirmation and validation, we are here. Follow the guided path where you are being called (professional, personal or a combination of both) and reach out so we can smooth your path and help with steps moving forward. We are eager to hear from you soon. And always remember, you are doing the best job you can with what you know today. And we are always here to help you attain your goals, dreams and aspirations.

Get a Reading with Izzy x9366
Izzy supports and empowers you. She is direct, insightful and compassionate as she tunes into your energy. Izzy has worked in this profession for more than a decade. She is a college graduate and a graduate of Enwaken Energy Coaching. Izzy is a Reiki Master and has extensive trainings and certifications in the fields of metaphysics, communication and intuition. Izzy is also a Pet Psychic, speaks to those who have crossed over and can help to locate lost items. Bring your questions and concerns, and she will shine a light on your path forward.