---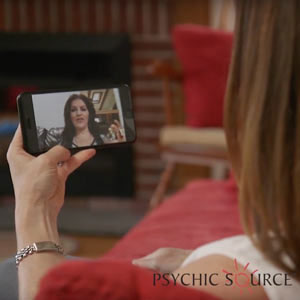 It's Friday night. You're work week has ended (hallelujah!) and you're relaxing on the couch in comfortable clothes you'd rather not be seen in, when a commercial for a psychic pops up on the TV. Does it intrigue you? Sure, it looks fun and interesting, but there's no way you're going through the hassle of finding a psychic, calling to book a reading, and leaving your house to boot. If only you could get an in-person reading in your own home, whenever you want, no strings attached…

NOW. YOU. CAN.
Psychic Source has officially launched the industry's first ever online, face-to-face video reading platform!
Now you can slide on your slippers, pour a glass of wine, and meet with your favorite psychic as if she or he is sitting adjacent on your couch—but with a lot more privacy!

Psychic readings have instantly become more engaging, more personal, and even more fun with our new video feature. You still have the ability to end the session at any time, but now you can see how your Advisor is communicating, which tools they're using, and how they're reacting to the messages they're receiving.

While phone and chat readings are highly accurate and effective, it's no question that sitting face-to-face with your Advisor is equally, if not more, exciting and intimate. For years (over 28, but who's counting?), Psychic Source has promised you only the utmost professional, enlightening, informative psychic readings. That is certainly not changing. It's just that many of us crave the human interaction we get from in-person communication, so we want to give that to our customers without taking away the convenience of virtual psychic readings. Now, if you want to sit face-to-face without the hassle, you can. Not up for showing your face today? Get a traditional phone reading. Still too personal? Chat is always a viable option. But use this opportunity to try a new kind of reading that modern technology has blessed us with! We continually promise your satisfaction and we think you'll be just as excited about this new feature as we are.

How does it work?

2. A window will pop up showing your selection and tell you how many minutes you have available for the video psychic reading.


3. Confirm your selection, connect to your online psychic, and enjoy your video reading!


4. If you run out of time, don't worry. You have the same Quick Buy options available to instantly add dollars to your account and continue your reading.

As always, thank you for being a loyal customer, friend and Psychic Source community member. Your feedback is always welcome as we strive to make this service your favorite place to get psychic readings.
Share This Page
---
Leave A Comment
You must be logged in to leave a comment. click here to login
Comments