Paranormal Road Trip - Stop #3: Lake Shawnee Amusement Park
Published Date 10/31/2016
Category: Psychic Topics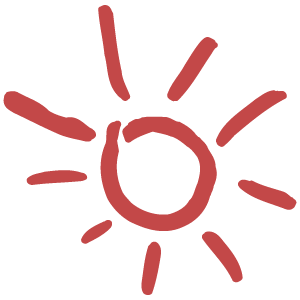 by Cheryl
-Customer Care Specialist

Earlier this year, Psychic Source introduced you to Cheryl, one of Psychic Source's own Customer Care Specialists who also happens to be an avid Ghost Hunter. If you missed her story, catch up here. Recently, Cheryl took a road trip with her fellow ghost hunters to visit several locations in West Virginia known for their reputation and history for ghosts and the paranormal. This is the finale of three days where we will travel along with Cheryl and her colleagues from Keystone Spirit Seekers to share the rich history and experiences found in these locations known for their paranormal encounters.


Have you ever wanted to explore an amusement park after hours? All you have to do is go to Lake Shawnee in West Virginia for this experience. I made an appointment to tour the property at the cost of $30 which considering the only other way to see the place is from behind locked gates, the price is worth it. Lake Shawnee offers all who visit a place steeped in tragic and haunting history.
Lake Shawnee's Dark Past
It's earliest known residents were the Native American's and archeological digs over the years have discovered artifacts of their time there. The first white settlers on what eventually became known as Lake Shawnee were where named Mitchell and Phoebe Clay. The pair had at least nine children during their marriage. In August 1783 while Mitchell was away from home, Shawnee Indians attacked his home and murdered two of his older children, Tabitha and Bartley. A third son, Ezekiel, was taken prisoner and later murdered at different location by the Shawnee.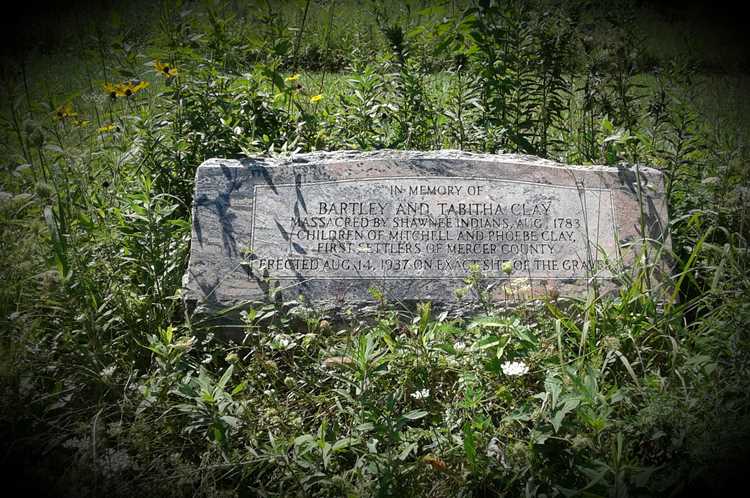 Conley Snidow bought the land in 1926 and created Lake Shawnee Amusement Park. It had rides, paddle boats, concession stands, swimming ponds, even a dance hall. It operated until 1966 when two children tragically died and the park closed. One death was a little girl who died on swing due to a truck accident and the other was a little boy drowning.
Abandoned in Time
I walked the property after touring via car and found the place to be overgrown and areas that once had been a lake were now drained. In fact, to see the stone placed in memory of the Clay children I had to walk one of the many dry lake beds, which is now overgrown with grass and wild flowers. As for the rides, buildings, playground equipment, even a bus left on the property, all lend it a sense of being abandoned which enhanced its paranormal appeal. The Ferris wheel is nearly over grown half way in the middle but you can see the upper cars and shape of the wheel still. The swings where the little girl died still hang while the middle of the ride that has otherwise been claimed by the nature.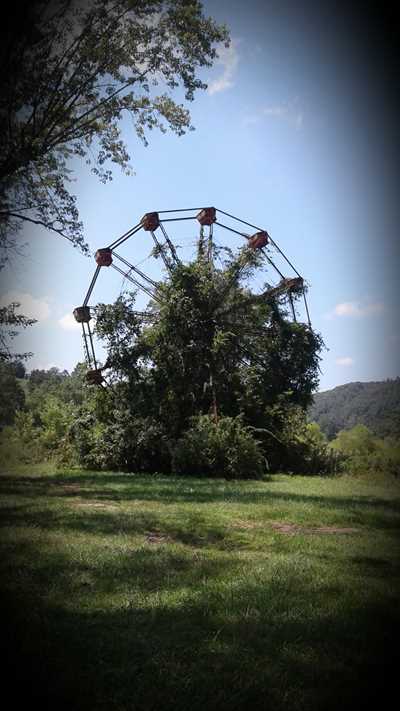 A Haunted Visitor
An abandoned bus is full of discarded items but the story goes a Boy Scout troop was at the park and the Scout Master knew there were 21 boys on the bus yet his final count was 22. A little boy is reported to be seen on the bus by visitors. The current owner left a tracker there at one point because the little girl liked to watch it in action. He has also seen dark shadows.
If you want to arrange an overnight ghost hunt be prepared to camp out. Once the port a potty's are in place and I have reassurances there are no snakes, I'd hunt there!

If you missed the earlier stops on Cheryl's Paranormal Road Trip, check them out below:

Part 1 - Moundsville Penitentiary
Part 2 - Trans Allegheny Lunatic Asylum
Share This Page
---
Leave A Comment
You must be logged in to leave a comment. click here to login
Comments