Paranormal Road Trip - Stop #2: Trans Allegheny Lunatic Asylum
Published Date 10/30/2016
Category: Psychic Topics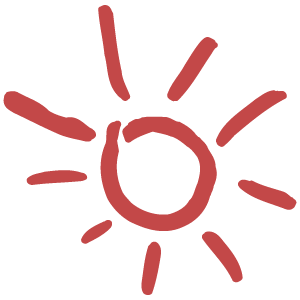 by Cheryl
-Customer Care Specialist

Earlier this year, Psychic Source introduced you to Cheryl, one of Psychic Source's own Customer Care Specialists who also happens to be an avid Ghost Hunter. If you missed her story, catch up here. Recently, Cheryl took a road trip with her fellow ghost hunters to visit several locations in West Virginia known for their reputation and history for ghosts and the paranormal. This is the second of three days where we will travel along with Cheryl and her colleagues from Keystone Spirit Seekers to share the rich history and experiences found in these locations known for their paranormal encounters.


Like most people I've watched shows about Trans Allegheny Lunatic Asylum located in West Virginia so as part of my recent road trip, I visited the famous location. After driving through the front gate, the first thing that struck me was how imposing the building was. The building's elegant design lends it an air of an English Estate rather than an American Asylum. The windows total over 900 and the building's stone façade was hand cut locally. The purpose of so many windows was they believed fresh air and sunshine cured mental illness. The room's windows enabled patients' access to sunshine and fresh air while remaining inside. The more aggressive patients were encouraged to participate in sports as a way to exhaust their energy.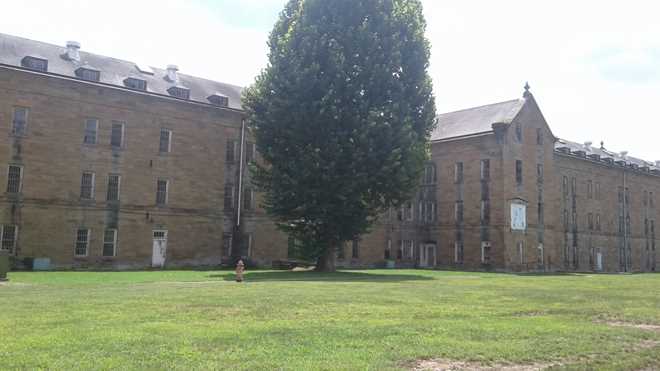 A Difficult Past
Construction began on the building in 1858 and was completed around 1881. It took so long because of delays caused by the Civil War. In fact one of the original buildings was used as Confederate Headquarters for a short time. When the patients began to arrive they'd be placed inside a cage and driven through the gates on the back of wagon. Over time the method changed to arriving seated in carriages, these carriages are displayed in the Civil War building. The Asylum was intended to house 250 people, yet during the 1950s the population reached 2400. The doors closed in the 1990s due to poor living conditions for the patients.
Walking into lobby felt like I was stepping back in time or a movie set. The walls are white, the wood stained dark, and the staff wears old fashioned nurse uniforms. What struck me as ironic was that they presented a stunning lobby for the people who came there, yet the patient who was admitted was unaware that unless the person who signed them in later signed them out, Trans Allegheny was their new home.
Questionable Motives
Several tours are offered and discuss the history of the place, how residents lived, and the horrors they endured. During my tour it was mentioned doctors would handpick residents to perform a lobotomy on; in many selections it not was necessary but nobody questioned the doctor's decision. A majority of patents were women often admitted because her husband wanted to be rid of her or his entire family. This allowed him to replace his wife with a "newer model" or have a mistress move in. One of my friends traveling with me was born with cerebral palsy and stated if she'd been born in West Virginia instead of Pennsylvania the year she was born; Trans Allegheny might have been her home.
The tour of the first level goes inside as well as outside and lasts 90 minutes. We passed the criminally insane dorms, the medical unit, and the back of the building where bars are on all three floors of the windows. Trans Allegheny had its own farm, a cemetery where you were buried by number not name, and residents worked there until the 1970s when the state required payment for their services. Nurses while employed and resided received an education and housing two nurses were assigned to a room. A current guide was also a former nurse there in 1970s her name is Miss Sue. They've restored a wing so you can compare how it once looked than to how it is now in its present state.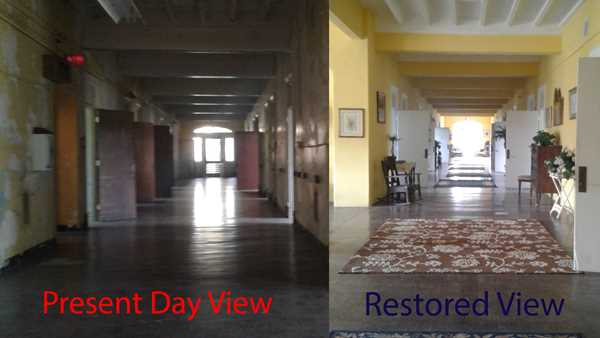 At the end of tour, I left knowing more about Tran-Allegheny Lunatic Asylum and I'd love to do an evening ghost hunt.
Cheryl's Ghost Hunting Road Trip concludes tomorrow with a visit to Lake Shawnee in West Virginia and its historic haunted amusement park.
Share This Page
---
Leave A Comment
You must be logged in to leave a comment. click here to login
Comments