---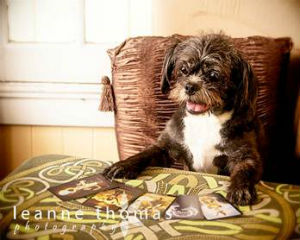 Psychic Seanna shares a tale of her little pup in which she discovered a hidden talent!

His name is Rudy; we rescued him 7 years ago. We think he's a genetic mosaic of a Boston Terrier. I believe he's a Cancer with Leo ascendant. He's a real mama's boy, but a big show off too! Full of love, kisses, lots of energy and super smart too!

I was actually looking for a cat when I saw a picture of him online and immediately started crying – he looked so sad in that cage at the pound. I knew I had to save him. I have a very strong connection with this furkid. He was a hot mess when we got him – not neutered, full of dirt/fleas, sick with a cold; but I absolutely fell in love with him. He graduated from PetSmart's obedience classes and now I keep the picture of him in his graduation hat on my desk. He's become my best friend. We had two older dogs, both of whom transitioned last year so now he's the king-well, except for our cat, Monkey.

This photo shoot was at one of the metaphysical stores where I see clients. It was a benefit for Happy Tales (this will be in a book "Hottest Hounds of Nashville") and we thought it would be cute to put him in my chair like he was doing a reading. He posed like he'd been doing it all his life HAHA!! Looks like he's about to tell you what's in your future!



by Seanna x8165
Share This Page
---
Leave A Comment
You must be logged in to leave a comment. click here to login
Comments