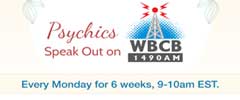 Have you heard the news? We are on the air with a new weekly radio show: "Psychic Source Presents Messages from Beyond."
Every Monday from May 4th through June 15th, between 9am and 10am on WBCB 1490AM radio station, a Psychic Source medium will be available to answer questions about past lives, deceased loved ones, and the spirit world. During the broadcast, the shows will also be available for online listening at the
station's website
.
Our second psychic medium to grace the airwaves was the very gifted
Psychic Ricky x8106
. We sat down with Ricky and asked him some questions about his experience including how giving readings on the radio is different from speaking with you directly over the phone (Spoiler Alert: it's not!).

Psychic Source: Hello Ricky, thanks for joining us today. How did you feel about being selected to be a guest on an installment of Psychic Source Presents Messages from Beyond?
Ricky: I was very excited and very grateful.

PS: Did you have any expectations going into the broadcast?
Ricky: No, we covered everything ahead of time before the broadcast with a meeting we had so I knew what to expect.

But there is an interesting thing I want to mention. Two weeks before I was approached about doing this radio show, I attended a Psychic Fair. I got to sit on the other side of the table as the client, not the reader. The psychic told me "You are fixing to be on the radio." I was like "Um…. OK."

Then low and behold, two weeks later I was asked to do the radio show. So that was some interesting and wonderful validation. I've seen her since that happened and I thanked her again and how she saw this coming. It's sometimes hard to impress me, but she most definitely did!

PS: Wow, that is amazing! Thanks for sharing that. Did you do anything special to prepare yourself before you went on the air?
Ricky: To prepare myself no matter if it is on the phone or on the radio program, I get in tune with music. Uplifting, spiritual, religious music that makes me happy and it brings me closer to Heaven. That's all I did besides having a cup of tea, a Red Bull and a cigarette and I was ready!

PS: Was there a caller who really stood out to you because of a very strong connection you made with them over the phone?
Ricky: Yes, her name was Donna. I've thought about her even more so after the call and her father's energy was still lingering and around.

With some of the calls I realized we had limited time but I almost felt that we didn't cover enough. I know we had to go through the different callers because the energies of these different people that were present stayed with me at my desk in my office even after the show, which was wonderful but I thought it was a bit incomplete. I wanted to give more, more validation. Just because the call ended, didn't mean the spiritual connection ended.

PS: How did you like the experience of being on the radio?
Ricky: I loved it. I would do it every week if I could.

PS: How does reading on the radio differ from reading over the phone like you normally do?
Ricky: None. None whatsoever. I wasn't really even thinking about that a lot of people are listening to this. It was a connection to the Divine and to the person that I was speaking to. The only difference was the radio host, moderating the calls. That was it.

PS: Thank you very much Ricky for speaking with us today and representing us on the radio during this six week event. Will you be listening to our next broadcast on Monday?
Ricky: Absolutely. Psychic Medium Paige is going to be doing it and I love her!

It was a wonderful experience and I was glad to have served. This is what I do, it's part of my religion as well. So it's not just the professional aspect, but it's who I am. And that made it easier!

Do you have a guiding spirit? What advice can you get from the world beyond? Psychic Source mediums will be on the radio to convey personally meaningful messages to those who call in.

If you missed the episode with Psychic Medium Ricky or any of our past episodes, you can stream it right now using the player above.
Be sure to tune in to
WBCB on-line
each Monday at 9AM through June 15th for more installments of
Psychic Source Presents Messages from Beyond.
Share This Page
---
Leave A Comment
You must be logged in to leave a comment. click here to login
Comments