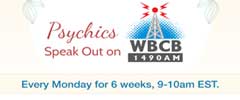 Have you heard the news? We are on the air with a new weekly radio show: "Psychic Source Presents Messages from Beyond."
Every Monday from May 4th through June 15th, between 9am and 10am on
WBCB 1490AM radio station
, a Psychic Source medium will be available to answer questions about past lives, deceased loved ones, and the spirit world. During the broadcast, the shows will also be available for online listening at the station's website.
Our latest psychic medium to grace the airwaves was the very gifted
Psychic Paige x7868
. We got Paige on the phone and asked her some questions about her experience, and she even answered a question before we asked it, that's how good she is! Enjoy!

Psychic Source: Hello Paige, thanks for joining us today. How did you feel about being selected to be a guest on an installment of Psychic Source Presents Messages from Beyond?
Paige: I was very excited. It was an honor to be chosen to represent Psychic Source on the radio!

PS: Did you have any expectations going into the broadcast?
Paige: I had listened to the first two shows with Kimberle and Ricky so I had a good idea what to expect. I knew it was going to be a fast paced experience and it didn't disappoint. It moved very quickly, not unlike what it's like doing calls on the line, but there was an element of excitement in the air.

PS: Well you definitely are psychic, you just answered a question I hadn't even asked yet, but we'll get back to that! Did you do anything special to prepare yourself before you went on the air?
Paige: It's something that I normally do before I even go on-line with Psychic Source. But yes, I did. I meditated. That's my forte in life, that's meditation. And I listened to some music that I find is uplifting and puts me in that meditative mood. And I did a little bit of reading as well.

PS: Thinking back to the show itself, was there a caller who really stood out to you because of a very strong connection you made with them over the phone?
Paige: Honestly, I felt they all did. But one of them in particular that stood out was this woman named Christian. She was just very open and when the energy is more open it's easier to read the situation. She had a love and romance question and she was very much open to listening and I felt that she wasn't blocking or being judgmental on the line expecting something that was going to be different. You know, a lot of people when they call, they block their energy. I did not experience that with Christian especially.

PS: How did you like the experience of being on the radio?
Paige: I loved it! I felt very honored. I felt very privileged. I thought it was a lot of fun. I felt that it was very fast paced. I just thoroughly enjoyed it! It was wonderful.

PS: Now to the question you already anticipated… How does reading on the radio differ from reading over the phone like you normally do?
Paige: It really is very similar in terms of reading on the phone line. I just felt that it was a little faster paced on the radio. Because sometimes I speak with callers on the phone, the calls are more in depth. So to be on the radio, you really have to be on your toes and tuned in psychically because you were talking to many many people.

PS: Thank you very much Paige for speaking with us today and representing us on the radio during this six week event. Will you be listening to our next broadcast on Monday?
Paige: I certainly will! I understand Ricky will be returning and I think that is wonderful! It's a great show.

I feel it is an opportunity for people who are listening to the radio show to understand the experience of getting a reading. Because it takes the "Woo-Woo Ness" out of psychic readings or psychic mediums. A lot of people think "Oh, you have a crystal ball in front of you," when in fact it is a lot about life experiences. They either need an affirmation, confirmation or information to see what is coming up in their life or to understand how their life is moving.

PS: Any final thoughts you'd like to share about your experience either before, during or after the radio show?
Paige: I just felt very uplifted. I felt it was very energizing. I certainly liked the format in terms of the quickness and the pace of the show. It was great. Jim is a very good host, he definitely knows how to keep it moving.

I have been told, many many times in readings that I've received from other psychic advisors that I would be doing radio. It was great to see that manifest itself into reality!

PS: Sounds like you and Psychic Ricky have something in common, he said something similar last week!
Paige: Yes, we do. I just love Ricky, he's great. I can't wait to tune in on Monday to hear him on the air again!

Do you have a guiding spirit? What advice can you get from the world beyond? Psychic Source mediums will be on the radio to convey personally meaningful messages to those who call in.

If you missed the episode with Psychic Medium Paige or any of our past episodes, you can stream it right now using the player above.
Be sure to tune in to
WBCB on-line
each Monday at 9AM through June 15th for more installments of Psychic Source Presents Messages from Beyond.
Share This Page
---
Leave A Comment
You must be logged in to leave a comment. click here to login
Comments