Messages from Beyond and On the Air - With Kimberle
Published Date 5/8/2015
Category: Psychic Topics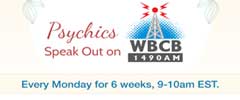 Have you heard the news? We are on the air with a new weekly radio show: "Psychic Source Presents Messages from Beyond."
Every Monday from May 4th through June 15th, between 9am and 10am on WBCB 1490AM radio station, a Psychic Source medium will be available to answer questions about past lives, deceased loved ones, and the spirit world. During the broadcast, the shows will also be available for online listening at the
station's website
.
Our first psychic medium to grace the airwaves earlier this week was
Psychic Kimberle x8608
. We sat down with her and asked her some questions about the experience including how she prepares herself for an hour of rapid fire calls as opposed to a phone or chat reading.
Psychic Source:
How did you feel about being selected to kick off the first installment of Psychic Source Presents Messages from Beyond?

Kimberle:
What a blessing to be able to use radio as the platform for my readings. I think we always learn so much when we hear readings on a platform like the radio.
PS:
Did you have any expectations going into the broadcast?
Kimberle:
I honestly tried to not have any expectations other than always leave people better than you found them. I also admit I use this strategy of releasing expectations as a way of looking at life to help alleviate anxiety as well. If I am anxious I could limit my ability to connect into the dimensions. I work each day to trust the universe brings to me exactly what I need.
PS:
What was going on in your head right before the show was about to begin? Did you do anything special to prepare yourself?
Kimberle:
For the most part I was completely successful at being relaxed and just letting life flow until 8:55 am when I called into the radio show and spoke to the Host. He explained that we would just start a conversation on air and I could talk about what I do and how I got into being a psychic medium and maybe, hopefully, if we are lucky, we would have some callers. I just thought oh no, the last thing I am prepared to do is talk about me. I can talk about spiritual things all day long but not about myself. (Laughing).

At this point it is now 8:59 am and its show time. I thought, ok, the spirits did not warn me to prepare anything for today so again, let it flow. I closed my eyes, had my headphones on and said to myself "here we go." Thank goodness it only took about a minute for the phones to start ringing and they never stopped.

PS: Yes, the phones truly lit up and we know there was never a dull moment the entire hour. Did that make it easier or harder for you to deal with?
Kimberle: There is truly nothing better than being able to be the bridge to aid others on their life path. The hour flew by for me. When they told me we were on the last call, I had to check my watch I couldn't believe how quickly it all went by.

PS: How did you like the experience of being on the radio?
Kimberle: I enjoyed every moment of it. I allow myself to go into a semi trans when I work so what happens is I really just go into auto pilot and talk and work to convey what I hear to the caller. I find myself learning from the readings I do for others as well. I truly enjoyed the experience and would love the opportunity to do it again!

PS: Thank you very much Kimberle for speaking with us today and being the first Psychic to represent us on the radio during this six week event.
Kimberle: Thank you for the experience, I can't wait to tune in on Monday for the next show with Psychic Ricky, and sit back with my morning coffee and enjoy it as a listener this time!

Do you have a guiding spirit? What advice can you get from the world beyond? The Psychic Source mediums will be there on the radio to convey personally meaningful messages to those who call in.

If you missed the debut episode with Psychic Medium Kimberle, you can stream it right now using the player above.

Be sure to tune in to WBCB on-line each Monday at 9AM through June 15th for more installments of Psychic Source Presents Messages from Beyond.
Share This Page
---
Leave A Comment
You must be logged in to leave a comment. click here to login
Comments