Messages from Beyond and On the Air - With Bridgette
Published Date 6/14/2015
Category: Psychic Topics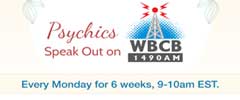 Have you heard the news? We are on the air with a new weekly radio show: "Psychic Source Presents Messages from Beyond."
Every Monday from May 4th through June 15th, between 9am and 10am on
WBCB 1490AM
radio station, a Psychic Source medium will be available to answer questions about past lives, deceased loved ones, and the spirit world. During the broadcast, the shows will also be available for online listening at the station's website.
Our latest psychic medium to grace the airwaves was the very gifted
Psychic Bridgette x8133
. We sat down with Bridgette and asked her some questions about her experience, and she even answered a question before we asked it, that's how good she is! Enjoy!

Psychic Source: Hello Bridgette, thanks for joining us today. How did you feel about being selected to be a guest medium on an installment of Psychic Source Presents Messages from Beyond?
Bridgette: I was delighted! It gave me an opportunity to get it out there in terms of what we do at Psychic Source and how we can be helpful to bridge the gap between those who have passed on and their loved ones. Because we just change energy fields, we don't die we just go into different energy fields.

PS: Can you share a little about your background as a psychic medium?
Bridgette: As a very small child, I was able to find lost objects, even before I could speak! If someone showed me where a ring was missing, I would go all around the house and I would just find things.

Then years went by and nothing happened and I never really thought about that. Then one day I was asked to sit in on a séance, I was a psychic researcher for a well-known journalist. I was almost laughing to myself, thinking this is outrageous and I can't wait to tell my friends this one. But within seconds, after I went through the breathing we were taught by the instructor, I knew names, dates and places of an event that happened. It shook my whole system and it changed my life! From there I went to an academy to further develop my gift and develop myself as a medium!

I also met my spiritual guides for the first time!

PS: Before the show began, did you have any expectations going into the broadcast? How did you prepare yourself before going on the air?
Bridgette: No. I don't have expectations because every caller is different. About 20 minutes before the broadcast, I went into a deep meditative state in order for my channel to be open for the flow. If you have expectations, it's just going to block your psychic flow. I am very careful to not have expectations, to just ask my guides to flow through me.

PS: Thinking back to the show itself, was there a caller who really stood out to you because of a very strong connection you made with them over the phone?
Bridgette: Yes, ironically it was the very first gentleman who called, a man named Harold. He mentioned his dear Aunt who he loved very much, I got a very warm feeling that she adored him and he was her favorite. When he asked what was the nickname she called him, it was "Honey Boy" and I got "Hairy Boy" which was very close. But it was a total confirmation that his Aunt was there.

Then I started to smell roses everywhere around her and he revealed that Rose was his mother's name. It was all a very strong confirmation. It doesn't always come to me with names, but I often get scents too and smell things and see the visual. It's not just one sense that comes through, especially in mediumship. It can be a taste, a smell, and of course in this case the nickname that came through to identify herself as being at his side.

Of course he said that his health wasn't well, but that she wanted him to know that his health was going to take a turn for the better. So when he hung up, I'm sure it really helped him a lot to calm his anxiety and to know that we don't die, we just change energy fields. The more you are aware, the more you acknowledge your loved ones, you can actually feel their presence. This is how they send messages.

What psychic means, it simply is an extension of all of our senses beyond the norm. When you are making the divine connection between this world and the other realm, all of our senses are being employed in the medium and that's what always happens for me.

PS: Previous psychic mediums who have done this show said the hour flew by and it all felt fast. Did you have a similar experience?
Bridgette: I am not aware of time when I do psychic readings. So I really wasn't aware. I wasn't looking at the clock. I go into an altered state of consciousness where time doesn't exist.

PS: Does reading on the radio differ from reading over the phone like you normally do?
Bridgette: There is no difference. It's just tapping into the person's energy field. It really doesn't matter if it is in person or on the phone, it's all the same, I just need to tap into the individual's energy field. In this case, the phone ceases to exist.

PS: You asked each caller for their birthday and the birthday of any loved one they were asking about. What do you use that information for?
Bridgette: I give it to my spiritual guides. I'm not doing astrology. I strictly work through my guides. My guide always wants it and it's just a way to identify them. It's just something that I've always done and I really don't have a good explanation why!

PS: Thank you very much Bridgette for speaking with us today and representing us on the radio during this six week event. Will you be listening to our final broadcast on Monday with the return of Psychic Kimberle?
Bridgette: I will certainly try. Unfortunately the show airs during the hours I'm normally on the phones. But if I miss it, I can always listen to it once it's provided on the website to playback!

PS: Any final thoughts you'd like to share about your experience either before, during or after the radio show?
Bridgette: I just felt good and that everybody came with a good intention. I was pleased that I was able to impart some psychic information and help them.

Do you have a guiding spirit? What advice can you get from the world beyond? Psychic Source mediums will be on the radio to convey personally meaningful messages to those who call in.

If you missed the episode with Psychic Medium Bridgette or any of our past episodes, you can stream it right now using the player above.
Be sure to tune in to
WBCB on-line
each Monday at 9AM through June 15th for more installments of
Psychic Source Presents Messages from Beyond.
Share This Page
---
Leave A Comment
You must be logged in to leave a comment. click here to login
Comments