---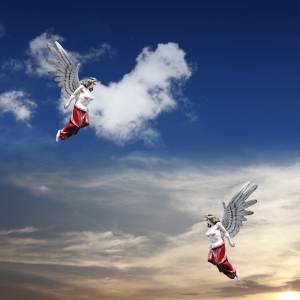 When you're going through a rough patch in your life, consider invoking the angel realm. Angels are powerful and helpful, and they work to get you through the difficult aspects of human life. There are a variety of methods to invoke angels and so many different issues they can assist you with.
Cards
You can get angel card readings to invoke the angel realm in your life. Some people feel most comfortable doing this themselves, with an angel deck of tarot-style cards. Others, however, find it beneficial to get angel card readings online. Either way, using the cards helps you focus on what you need, invoke the correct angels, and get the assistance you need. There are a variety of different card decks out there, so make sure you find one that you feel connected with. This allows you to truly feel the power of the angels in your daily life.
Prayer and Meditation
One of the most common ways to invoke angels is by using prayer and meditation. Sit in a quiet place and focus your mind on the obstacle in front of you and the help that you need. You can call out to a specific angel to give you guidance or to the angel realm as a whole to offer you what you're in search of. Either way, your focused energy opens up your mind and spirit to a higher power, allowing you to get help. When you meditate, you're able to quiet your mind to a point where you can feel and hear the angels more clearly.
Crystals
There are many different types of crystals out there that can help you when invoking the angels. These crystals attune your energy to your specific needs, opening up the spirit and bringing you to the attention of the angels. Each type of crystal is used for a different problem or goal, so make sure you understand the crystals you wear or use. For example, if you're in search of wisdom or require help making good judgements, use lapis lazuli. Rose quartz can be used for aid in romantic endeavors. The most effective use of crystals when invoking the angel realm is wearing the crystals and focusing on your needs.
Psychic
If you're having trouble connecting with the angel realm on your own, contact a psychic. Whether this is in person or with an online psychic, they can work with you to call out to the angels and give you direction in your life. Many times, psychics have a more direct connection with the angel realm, which can give you a clearer answer to your questions and problems. For the best results, make sure that you find a psychic that works with the angel realm, though most psychics are able to contact angels.
Invoking the angel realm and getting the aid of the angels allows you to overcome addictions, make major life decisions, and more. Take the time to connect with the angel realm to help improve your life.
Share This Page
---
Leave A Comment
You must be logged in to leave a comment. click here to login
Comments