Ghost Stories with Psychic Renee Marie - Week 4: When Your Beloved Pet Passes Away
Published Date 10/24/2017
Category: Psychic Topics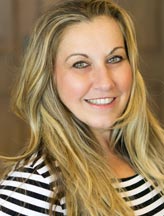 Get a Reading with Renee Marie x8632
Welcome back to my 4-part series detailing some of my Ghost Story Adventures. Each week, I will take you with me as I reflect on one of my encounters and share some of the unbelievable things I witnessed firsthand. However, for the final installment of my series, I am changing things up a bit, read on and see what I mean…

When you own a pet you all know the connection and closeness that each one of you feels. Some may experience the connection stronger than others, but still there is the knowing when something is wrong as well as after they pass on to the spirit world. You just have that feeling that your pet is there with you.

First, I would like to tell you about Nina, she was a beautiful brindle greyhound that we rescued. From the day she entered our lives, it was all about her and my husband. Nina was my husband's dog as I had my older dog.

A few months later we went to the Fall Ball for a greyhound fund raising event as well as to adopt another dog. I told Nina to go find a playmate to bring home, there were so many great dogs to choose from. Nina did find a large male greyhound that had just recovered from a broken leg. He had his front legs on top of a picnic table and was trying to get a treat. He paid us no mind at all. I went over to the coordinator and said I would like to put my name in to adopt this dog.

A week went by and we were told the good news… we were approved to adopt him! Well, when we looked at his racing number and litter number we found out that Nina and him we related. We named him Shoobie and what a goofy, happy dog he was!

Now fast forward with Nina when she was ready to cross the rainbow bridge we had the vet come to our home so she could be with all of us. Right when she passed I saw her spirit leave her body but then 30 minutes later, as I was putting things away, I felt a surge of energy that ran around my body. I looked up and saw Nina (it was like looking at liquid silver that covered her body), do a lap around me and run up the stairs to see the others. For about two weeks she would wake me up at 12:00AM to bark and tell me she was still there. It was so loud, my husband even heard it.

About a year before Nina passed we ended up (couldn't help ourselves) purchasing two mini long-haired dachshunds that were sisters named Eva and Bridget. Eva was closer to Nina and Bridget was best buddies with Shoobie. Coming back to the day we said goodbye to Nina, while the vet, my husband and I were I our living room with Nina, Bridget jumped out of the gate we had blocked and ran down the stairs to kiss Nina good bye.

We were down to three dogs at this point. Moving ahead to when it was Shoobie's time to cross over, it was Eva who ran down the stairs to give him a kiss goodbye. Shoobie, was the first dog that had a strong hold of my heart. I always tell people Shoobie had a piece of my heart and Bridget had part of my soul.

Shoobie who is quite active in his spirit form always helps me with my animal communication. Since he passed, there have been several times my husband and I would be watching TV and we see Shoobie walking in front of the fireplace with his reflection in the glass. So cool! But the best is when two times I lifted his dog bed to vacuum and his spirit was in it. I did not expect it nor did I feel he was around. It felt as if his body was on the bed and he got up.

It wasn't until my Bridget passed away that I decided to take pictures whenever I felt my animal spirits near. Unfortunately, Bridget passed away too young and too soon, she was only eight years old. The hardest part was, I was away when Bridget passed. The day she passed away, in the early morning hours, I had a dream that Shoobie had brought Bridget to me. I knew what that meant. I woke up to the vet hospital calling me about Bridget, they said she was not going to make it. She passed soon after. I rushed home as soon as I could later that night. I'm very close with all my animals, but with Bridget our connection to each other was different. Bridget was a very happy, playful loving dog. Bridget passed away October 14th, 2015 and thank God, she lets me know she is around me. This is a photo of my baby Bridget...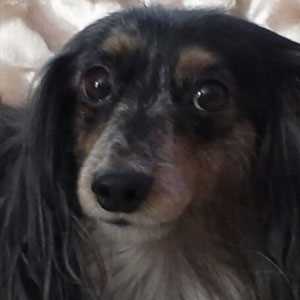 The day after she passed away I was sitting on my couch in my other home communicating with her. I asked her what happened and that I was sorry I was not there for her. I felt she was close to me, but I did not know where. I heard "I'm right here by the door where I always sit." Finally, I decide to take a few pictures by the back door.

I took a few right after another, and looked. I was amazed, that I could capture her as well as I did. I think I sent that picture to everyone I was friends with that day, including my Vet! You can only imagine how I felt that I was able to get her spirit picture to confirm she is still with me. I captured two pictures within a 3-month time frame of Bridget's spirit.

Picture number one is the first picture in spirit form, look at the bottom panel closest to the corner where both glass doors meet. She is in the bottom corner of the inside door (the door that has the frame).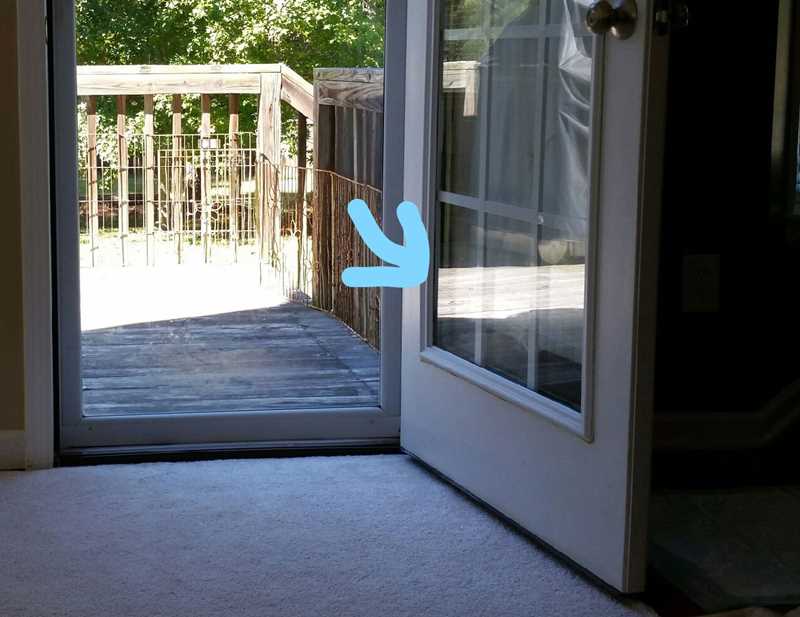 The second picture is of our front door, look at the reflection on the flower pot.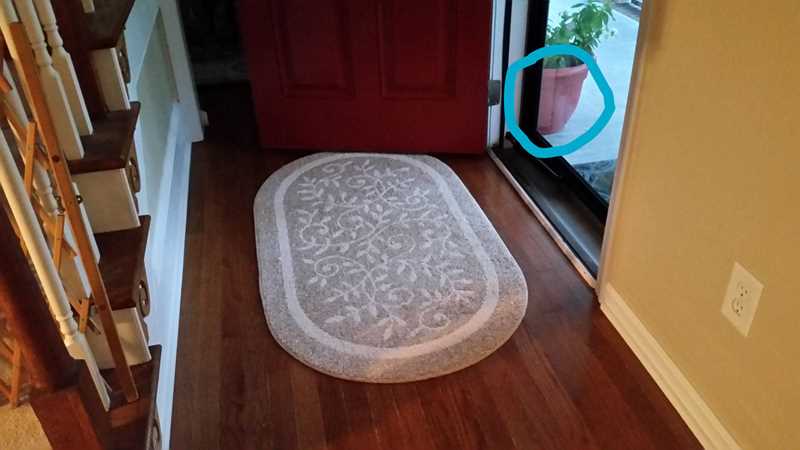 On the third day after her passing, I felt her jump up on the bed and walk up next to me when I was in bed and lay down by my chest. Instant comfort that was, and perfect timing on her part. Just about every night before we moved (we moved 5 months later), I felt her on the bed.

We are now at our new home, and I was upset that I could not pick up on her, let alone my other dogs that had passed. I guess because we had a lot going on and I just did not have time to sit still. We moved in February and by June I began to feel her around and back up on the bed. But still I wanted to get another picture of her, to prove she was still around.
I DID!! On the one-year anniversary of her passing I asked Bridget to please show herself to me. That she could take what energy she needed from me to do so. I was amazed I could capture her on camera again, not just once but many times. You can see her face by the door mat on the left corner...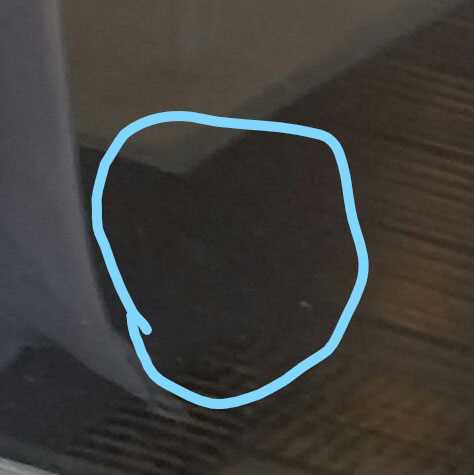 And then again on the right side of the mat (white light around her face.)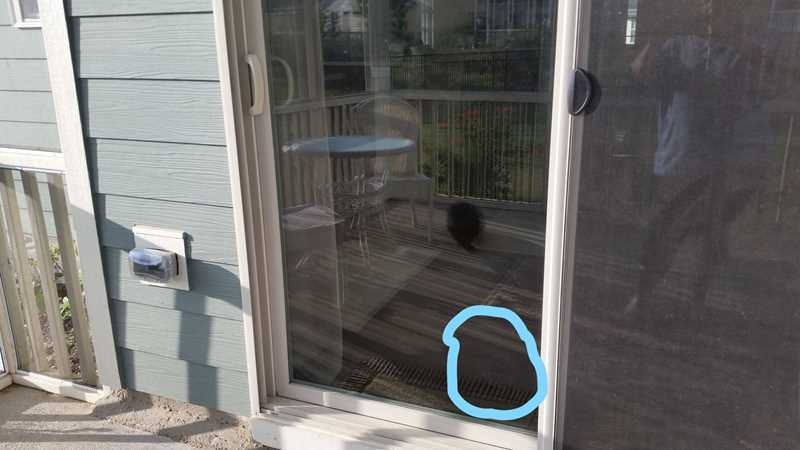 Recently, on the second anniversary of the passing of Bridget, I was taking a photo of her sister Eva. But this time, I had another surprise waiting for me. My late Greyhound Shoobie made an appearance! You can see his white energy thru the screen door, laying under the island in my kitchen! Thanks for reaching out to me again Shoobie, I miss you too!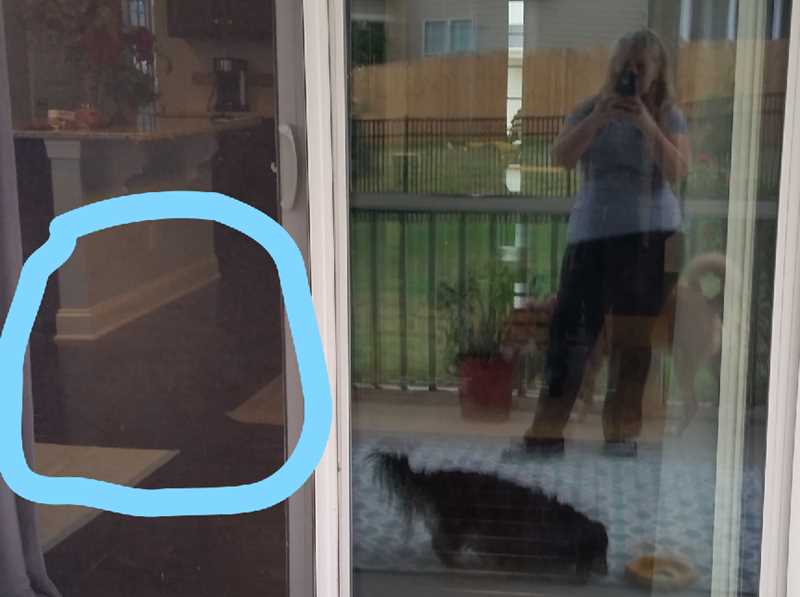 Share This Page
---
Leave A Comment
You must be logged in to leave a comment. click here to login
Comments