---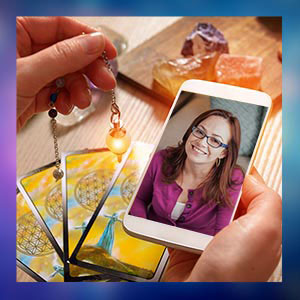 No matter which form it takes, a psychic reading can offer incredible insight about your life, help you make difficult decisions, assist with processing surprising turns of events, and even help you come to terms with substantial losses. While phone and online readings can be remarkably effective, video chats with psychics can take your experience to new heights. From elevating your sensory experience to building a greater sense of trust, discover four benefits of a psychic video reading.
Elevate Your Sensory Experience
A psychic reading tends to be a stimulating and eye-opening experience, and a video psychic reading allows you to elevate your experience even further. While a phone reading lets you talk with a psychic and an online reading gives you the chance to communicate via a digital chat, a video reading enables you to see your advisor, too. Whether you're contemplating your first psychic reading or you consult with psychic advisors frequently, you'll appreciate that this type of reading engages your sense of sound and sight, creating a more immersive setting.
Forge a More Intimate Connection
When you want to keep in touch with a trusted family member or a dear friend, seeing your loved one can make your conversation much more meaningful. Seeing how the person on the other end of the line processes your questions and reacts to your responses can help you foster a more intimate connection and a deeper understanding of the communication you're sharing. The insight and advice you receive via video may seem more significant and intuitive, and you're likely to perceive additional layers of meaning as you interpret your psychic advisor's expressions and body language.
See Tarot Cards With Your Own Eyes
An experienced psychic can use elements like tarot cards, angel cards, and numerology charts, effortlessly explaining their results over the phone or via online chat. If you tend to get much more out of a conversation when you can see objects with your own eyes, you'll appreciate the visual aspect of a video psychic reading even more. When you opt for a tarot reading, you'll be able to watch as each card reveals itself, better understanding the meaning of each card and how it shapes the answers to your questions.
Build a Greater Sense of Trust
With a video reading, you'll have the opportunity to do more than observe psychic elements or see the expressions of your advisor. You'll also be able to make eye contact with your psychic advisor, which can be key to building a stronger relationship. Not only can making eye contact help you feel empathy and connection, but it can also enable you to feel a greater sense of trust and faith in your advisor, ultimately improving your psychic reading experience.
Whether you're curious about your love and family life or you have questions about your career and personal growth, a psychic reading can help. With a live video psychic reading, you can glean confidential answers and benefit from life-changing advice.


Share This Page
---
Leave A Comment
You must be logged in to leave a comment. click here to login
Comments