---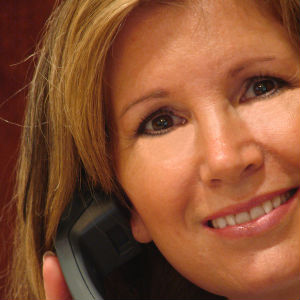 I had just started at Psychic Source and had been wondering with some anxious anticipation, how my gifts would translate over the phone lines. Trained as a psychotherapist, many of my clients would never believe I was also a psychic medium. So here I am, wanting to share my gifts in a way that felt safe and comfortable for me. I thought about a schedule I could commit to, and was all set.
The morning of my first day, I had my tarot cards in hand, prepared my office with candles, and mediated. As I waited for my first caller I felt a spirit with me. Odd I thought --who's this? I tuned in and felt a woman. She relayed to me that a woman would call asking about her spirit guides and that's how you will know she belongs to me. This woman felt like a mom or grandmother to me. It was difficult not knowing who would be calling. I felt like I was in the dark a bit but figured I would just write down what I got from her. Half of me thought, "No way this spirit belongs to a caller."
Even though I have been connecting with spirits for a while I still sometimes doubt my abilities. I was looking at all the advisors working: 48 of us!! So I guess this spirit comes to me because she knows ahead of time the right caller will pick me? I am listed as new and just started. That truly amazes me. So I waited and a few calls later a woman called asking about her spirit guides. I was shocked! Wow, this is the woman!!! I read her cards because she had questions about her life and then I asked her if she had a mom or someone close in spirit. She said no, she was adopted. Feeling a little confused I told her there was a woman in spirit around her and this woman was talking about a hairdresser. She said, "Oh my adopted mom is a hairdresser!"
I then went on to give her all the messages the spirit guide had for her, and the memories that the spirit guide wanted to share. We figured out the spirit guide was her aunt--her mom's sister-- sending them both her love.
I told my friends who knew me what happened; they were not surprised. I often think about what a spirit has to do to arrange a message for their loved ones and I truly believe it's the sweetest gift ever.
You see, I know it takes a lot of energy on their part. I know because I feel it. For them to make an appearance I just know it's like traveling for 3 days in the desert. It moves me to tears because I can feel the love and concern they have for us. The effort on their part does not go unnoticed by me and I feel honored that they connect with me to be there for you!!! I have come to know that our loved ones who have passed are our own spirit support group. They cheer us on and help us guide us, all we have to do is know they are there!!!
by Janice Mary, 8896
Share This Page
---
Leave A Comment
You must be logged in to leave a comment. click here to login
Comments