Trick or Treat: 5 Original Halloween Costumes to Try This Year
Published Date 10/10/2015
Category: Life, Destiny & Meaning
---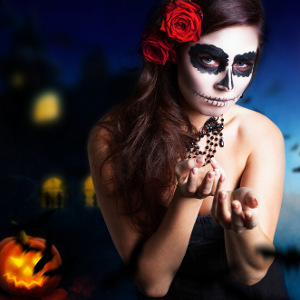 October has begun, which means Halloween and all of its festivities will be here before you know it. When you hit the Halloween parties this year, don't wear last year's tired old costumes. Here are five original Halloween costumes you should wear this year.
The Dress
No one can forget the dress that divided a nation with its ambiguous color scheme. If you felt strongly about whether it was actually white and gold or black and blue, wear a striped dress in that combination. If you'd rather incite more fiery discussions, though, create a dress that party guests can interpret either way, with one color combination on the back and the other on the front.
Twins
One of the most loved emoji for its fun, carefree feeling, the twin emoji is a fun two-person costume that will make everyone happy. The premise for this costume is straightforward. Grab a friend and dress up in a DIY combination of matching black leotards, pink tights, and creative headdresses. Throughout the night, be sure to take advantage of opportunities to synchronize your movements, whether you pour drinks simultaneously, walk with your arms linked, or break into dance moves.
Unicorn Head
Everyone loves a unicorn, and there's no better time than Halloween to take this mystical being in a surreal direction that might require a dream interpreter. Purchase a unicorn mask at a party supply store and pair it with a serious outfit like a full suit or a floor-length dress. This costume works even better as a couple's costume, so make it even more surreal by asking your date to be your foil by simply wearing a sharp tuxedo or a sparkly ball gown. The contrast will be confusing, surprising, and fun.
Tourists
For a lighthearted costume that you can take to the extreme, dress up as a tourist. This is your opportunity to pull out all the obnoxious clothes you already own, like over-the-top Hawaiian shirts, too-big straw hats, and funny sunglasses. Stick a map in your pocket and wear a camera around your neck to really drive the point home. You can even become a fun party photographer by asking the other guests to pose for photos with you as you tour through the party.
Game of Thrones
One of the biggest shows this year from HBO, Game of Thrones is packed with intrigue, horror, love, and fantastic outfits. Pick up a costume set at your local party store, or go DIY by assembling the components yourself. You'll need some medieval-style garb, armor accessories, and some bold jewelry. If you don't have the hair to match, pick up a blonde wig, and don't forget the makeup. If you opt for Daenerys Targaryen, you'll want to create a bronzed peaches-and-cream complexion, but if you go for Jon Snow, you'll need a more weathered look.
Halloween is a wonderful time of year to amuse, surprise, and engage friends and family with a creative costume. Chat with a psychic online if you need advice on how to truly capture yourself in your costume this year.
Share This Page
---
Leave A Comment
You must be logged in to leave a comment. click here to login
Comments