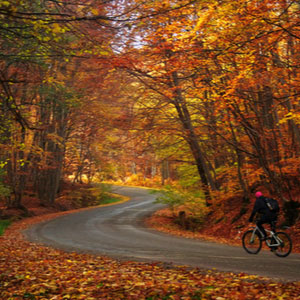 The beginning of autumn marks a special time in seasonal earth energies. Toward the end of summer, if you listen carefully you can clearly feel and see this movement. Now nights become slightly cooler with glorious sunsets in evidence as shadows deepen earlier each evening. And if you listen with your soul you will hear a special sense deep within; that of hurrying in preparation for earth's long winter chill.
Some of Autumn's special symbols include Balance, Change, Letting Go, Abundance, and Mystery. These themes are echoed in the colorful cards of the tarot deck as well as in other divination methods, including dreams.
Balance
This year, September 22nd marks the annual Autumnal Equinox which is the astrological passage from summer to autumn. Centuries before ancient people would abide by these natural guidelines to plant and harvest their food. As a rule, anything that ripened after this time was not considered safe for eating. Not only is this a time when the energies of dark and light, night and day are equal in length. 
We can look to the tarot card of Justice found in most decks. Justice, of course, embodies balance, a theme very much associated with this season. When this card is drawn in a reading, the querent can expect a resolution to her/his problem.
Change
For anyone who has seen a hillside dotted with colorful leaves and lit by an early sunset, this site can be transformational. The Raven is another sign of change. The beautiful bird shows that all things must pass and that clinging to the present is a useless action. It can be difficult to navigate unplanned change, but the Raven urges us to embrace change. This in turn will make the present more precious. The Raven shows us that change can sometimes be sorrowful and that grieving is natural and important. But in the final analysis, rising above the sad feelings will help you to see the blessings that can accompany this natural part of life. 

Another way to welcome the Fall season is to participate in a mediation on or around the Autumn Equinox as you seek to find new balance at this special time of year of change. 
Letting Go 
It is time to let go of all preconceived ideas. Time to move forward with growth, knowing that as winter approaches, hesitation is not a wise choice right now. It is surely the moment to release anything in the past that is holding you back. An excellent way to release is through fire energy. I often suggest to my clients to write that angry letter they don't send, but rather put it into a safe area, such as an outdoor sink or firepit, light it with a match, and watch the flames rise as the paper recedes. Let your thoughts and feelings go up with the smoke as the spirals rise higher and higher. Release all feelings and control. It is done. 
Mystery
As autumn approaches, then blooms full measure, we see the beautiful, and colorful flare-up of nature. As the days go on, this same background becomes brittle as leaves fall from trees and plants turn brown. All around us, we see what looks like an ending. This cycle serves as a sure reminder of the fleeting sense of time. It is a reminder of the beauty and mystery of life. It is a call to the other side, the next incarnation, the deepness in our souls. 
An exquisite tarot deck, the Wicca Oracle Cards Number 13 card stands for Samhain, the third festival. It depicts typical symbols of the season: pumpkins piled high on an old wheel barrel surrounded by colored leaves adorning a nearby tree. The card's message tells us that this is a time when the ancestors may offer special messages through chance encounters, or in dreams or even voices whispered in the darkness of the evening. It also tells us that we indeed have nothing to fear from the dark. 
I suggest to my clients to write or record any dream or dream fragment they may have. In the morning's light interpretation can be better drawn by looking at each symbol. For instance, if you dream of being in a Halloween costume, you might consider why you are hiding your true nature from others. 
Abundance
Abundance is another autumnal symbol that shows up in the second and third harvest festivals (Mabon, Samhain), as well as the more traditional one of Thanksgiving. The Wicca Oracle Cards spotlights its number 12 card, Mabon, as abundance. Cornstalks and hay now harvested in well-turned-over fields are characteristic of the season. When this card is drawn, one can expect an overflow or good fortune in whatever area the querent has asked about. 
If you want to try stone divination, reach into your bag and draw out several stones. Put them down on a firm surface. These little stones can help determine where the abundance is in your life.  And if you'd like to manifest money or material possessions, use a vision board to manifest abundance.
Of course, these divination methods could fit into any of the aforementioned symbolic themes. The best idea truly is to go with the flow of change now in this new season. Change, after all, means letting go of everything that came before, and is perhaps the perfect key to this sometimes melancholy season.

Get a Reading with Zoey x8454
Zoey has always been passionate about writing and art. She's had many media stories published plus poetry and greeting card verses. Some of her very favorite stories were written about Jamaica from a press tour. These led to discussions about her tarot reading. Before she knew it she was being asked to come back and read in a salon. Zoey is currently working on a fiction book about how thoughts can create your world. She hopes through her characters to teach clients how to create less havoc in their lives while manifesting their heartfelt desires.