---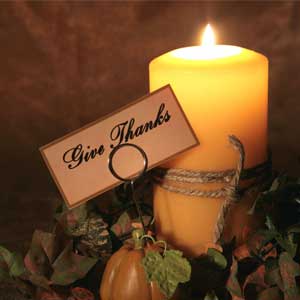 Thanksgiving arrives next week and for many of us it means a paid vacation day from work, either driving to visit or staying home and cooking up a feast for family and friends, watching parades and football on TV, and stuffing ourselves with food until we pass out on the sofa. And there's nothing wrong with that, we all deserve a break. But often times we are so busy with our day to day lives, we forget one of the main reasons we celebrate Thanksgiving, and it's right in the name...

To give THANKS!

With the hustle and bustle of modern day living, taking time to stop and give thanks to the people, pets, and things in our lives is something we should do not just one Thursday in November, but every day of our lives. A well stated "Thank You" goes a long way.

So in honor of Thanksgiving, we asked our Psychic Advisors to share what they are thankful for. There were so many wonderful responses, we couldn't fit them all in one article. As a result, this is Part 1 of a 3 Part series that will run daily from November 19-21.

We hope you enjoy this look into the lives of our psychic advisors and that it helps inspire and remind you of people and things you are thankful for, not just at Thanksgiving, but all year long!

I AM THANKFUL FOR…
Moira x7776
- I am grateful for the ability to walk this beautiful path, surrounded by creation and nature's majesty each day. It is a blessing to live in such a peaceful place. I am appreciative too that my family, both of origin and of creation nourish me, for they are mirrors reflecting back to me lessons of truth and love. And I am grateful to live in a time and place that allows me to connect with so many amazing people on this ever evolving and expanding journey.
Caron x8188
- This year, I am thankful for all of my great clients that share both their achievements and sorrows with me. I love being excited for a client that is happy when something that they were worried about happening doesn't happen. And I am excited for a client when they sooooo wanted something to happen and when they call me to tell me how happy they are.
Denise x7842
- Every breath I take. Every emotion I feel. Every thought I have that creates a world of love, joy, and Peace To All Beings. Be Well!
Joseph x7535
- My Psychic Source Callers. I love it when someone calls me and tells me that the quality of their life has improved because of the information that we were giving during a reading.
Nancy x8068
- My very faithful little cat, Egypt. He was a rescue baby I never planned to have and has proven to be my best buddy and most faithful partner in crime.
Barbara x7866
- My two loving daughters, my health, my job with Psychic Source in which I have been able to meet such wonderful people. I am thankful for my clients that I get to speak to every day. I not only have helped them through their trying times but I have learned a lot from their stories as well. Happy Thanksgiving!
Mattie x8061
- I am thankful for the gift of being able to wake up and live another day. I can best illustrate this idea from a quote of one of my favorite books which is Anne of Green Gables. The quote is as follows: "Life is worth living as long as there's a laugh in it."
Indigo x8897
- My son! He is the best thing that ever happened to me and filled with all the love in the world reminding me that it's going to be ok!
Delia x9106
- Our beautiful Mother Earth as she lovingly nourishes and houses all beings that inhabit her. I am thankful for her grounding energy as it helps to keep me centered and strong in knowledge and truth as I travel through this incredible time and space that we call life.
Sadia x8659
- This year I am thankful for practicing Gratitude. We are all guilty of complaining at the end of a long day, we are programmed to focus on the bad. When practicing gratitude, you have to look for the good. It's life changing.
Venus x8854
- I am thankful for the constant blessings of love and abundance of all kind received at every moment.

Be sure to check back Friday and Saturday for the remaining 2 parts of our "Giving Thanks" series by the advisors of Psychic Source.

Please share a comment below with anything or anyone you are Thankful for this holiday season.
Share This Page
---
Leave A Comment
You must be logged in to leave a comment. click here to login
Comments