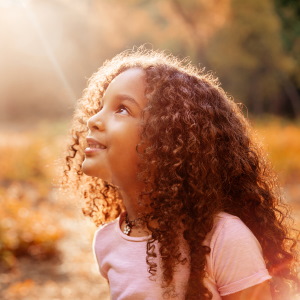 The global spread of the coronavirus has made 2020 a trying year in nearly every part of the world. Children may look back on this as a time of unusual challenges, but you can help them reflect on 2020 as a year of valuable lessons. Here are a few important spiritual skills that kids can foster during this unique time.
Resilience
Resilience is an attitude of toughness and staying confident in the knowledge that you can recover from any difficulty. This is especially important in the face of 2020's unprecedented challenges. You can teach resilience best by exhibiting it. Model a calm attitude as you work together with your children to practice creative problem-solving strategies like cooking at home to save money, establishing routines for effective homeschooling, or implementing new cleaning procedures for better health. If you're having trouble with your own resilience levels, an insightful psychic chat might help.
Compassion
In an age of social distancing, it's easy to focus on self-preservation. However, it's more important than ever to nurture our connections with others and connect to what's happening in the community, country, and world. Teach children to practice compassion by actively seeking ways to reach outside your bubble and help those in greater need. This could mean cleaning out the pantry for a food bank or calling an elderly relative who is isolated to help them feel less alone.
Critical Thinking
Critical thinking is an important spiritual lesson because it teaches us how to assess information and determine what's true. In our modern digital age, critical thinking is essential. On nearly any topic, there are sources that are more credible than others. There's a difference between trusting any horoscope online and speaking with an authentic astrology psychic. Teach children how to discern the truth, and they'll be better equipped to find their own personal truth within themselves.
Mindfulness
Mindfulness is a popular meditative practice that can help you calm, center, and focus your mind. In 2020, mindfulness has taken on more importance as it helps us stay conscious of face touching, hand washing, social distancing, and other safety measures. Encourage children to focus on the moment and think about what they need to do now rather on anything in the future or past. This will help to keep kids healthy during the pandemic while fostering a valuable skill they can keep using throughout their lives.
Gratitude
It's easy to get caught up in the negative aspects of 2020, but this year has also given us opportunities for gratitude. Many families are finding that they're thankful for the chance to spend more time together as they work or attend school from home. Seeing masked faces in public can help us better appreciate unmasked smiles when we see them. Focus on the good and teach your children the power of gratitude in trying times.
These spiritual lessons can help you transform a difficult time into an unexpected opportunity for growth. Start connecting with your children as you hone these skills.