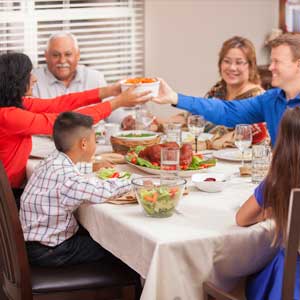 For many families, Thanksgiving means it's time to argue over who makes the best mashed potatoes and who should wield the carving knife. The true meaning of the holiday, however, centers around gratitude.
Gratitude Equals Happiness
Since Thanksgiving sometimes raises stress levels for people who have to organize travel, plan elaborate meals, and make room in their homes for out-of-town guests, it helps to focus on gratitude instead of minutiae. People who practice gratitude on a daily basis are, on average, 25 percent happier as a result.
If you struggle with this, consider taking time to feel grateful for yourself. Treat yourself kindly so you can treat others the same way. Pamper yourself with a trip to the spa, an afternoon with your favorite hobby, or a chat with an online psychic to help clarify questions you might have about your path.
Creating a More Powerful Thanksgiving
If you want to make Thanksgiving as meaningful as possible, devote the entire day to gratitude. Involve the kids in gratitude crafts, ask your guests to share the things for which they're grateful, and resist the urge to dwell on small frustrations that might ruin your holiday.
When you devote yourself to a grateful Thanksgiving, that's what you'll remember about the day. You won't care that the turkey was a little dry or that nobody wanted a slice of your pumpkin pie. Instead, you'll remember that you shared a table with people you love or that you spent time caring for yourself.
Involve your entire family in the process. Encourage everyone to share what they're most grateful for as you sit around the Thanksgiving table. If your family members balk at the idea, share your gratitude first so they feel more comfortable expressing themselves openly.
Incorporating Thanksgiving Into your Daily Life
Thanksgiving only lasts 24 hours, but it doesn't have to end when the clock strikes midnight. If you practice gratitude daily, you'll find it easier to cope with the difficult things in life, such as loss, disappointment, frustration, and stress.
Consider starting a gratitude journal. Every morning or evening, write down in a notebook the three things for which you're most grateful. Some days, those items might come easier than others, but force yourself to look for your blessings. As you gain practice, it will become easier.
Even if you're just grateful for the roof over your head or the fact that the postal carrier delivered a package you've been hoping to receive, you'll experience the benefits of gratitude. If possible, turn negative circumstances into a source of gratitude. For example, if you lose a big account at work, write down that you're grateful you have a job.
After a year of actively practicing gratitude, the sentiment will come naturally next Thanksgiving. You'll feel more in touch with the holiday and better able to cope with the stress that inevitably accompanies the holiday season.
If you struggle with creating a gratitude practice, consult a live psychic. He or she can help you work through the boundaries you've erected around gratitude so you can experience it fully.