---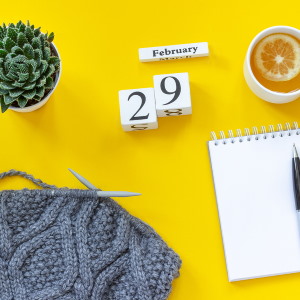 Leap year gives you a full 24 hours of bonus time that you wouldn't enjoy in the average year. How will you make the most of this beautiful gift of time? Try these ideas to make leap day extra fun.
Practice Gratitude
Use your extra day to practice mindful gratitude for the blessings that you experience the rest of the year.
Make a list of things you're thankful for.
Buy a package of thank-you cards and mail several.
Create gratitude posts on social media.
Write a letter thanking the universe for the blessings it's given to you.
Light a candle and meditate on the best parts of your life.
Get Out of Town
Take a day and explore a place you've never been to. Try something unfamiliar. If you live in a big city, find a small town to stroll through. Seek out roadside destinations or finally visit that major monument that you've never taken the time to see.
Examine the Year Ahead
Gaze thoughtfully into the year ahead. Leap day falls early in the year, making this the perfect time to examine your progress with New Year's resolutions and adjust these goals or reward yourself for your successes. Consider making psychic phone call to learn how you can best prepare for the challenges and opportunities you'll face in the future.
Reorganize a Hot Spot
Take the day to make your life neater and more efficient. Select a hot spot in your home or office where clutter tends to accumulate. Find permanent homes for these items and implement changes in your routine that will keep that area clear. If you drop your purse, keys, and mail on the counter, hang a hook and mail organizer for these items. If a corner of your desk gets piled with papers, purchase a filing cabinet for your space.
Tackle Unfinished Projects
Make a list of all the projects you've started but not finished. What tasks have you purchased supplies for but failed to start? Use your extra day to finish off as many of these half-done projects as possible. Complete almost-finished crafts, put your unopened cleaning supplies to use, or finally light that brand new candle you got with intentions to start a meditation practice.
Try a New Experience
Let leap year inspire you to try something that you've always been interested in but never pulled the trigger on. Perhaps you'll finally get numerology reading. This could be your day to try a painting class, hike through a new area, or try making your own sushi. Select one or more things from your bucket list and give them a try!
Give some thought to the leap year ahead of time so you can plan a truly special day for yourself. While it's fun to celebrate on February 29, you can really use your extra day whenever it's convenient. What's really important is that you make the most of your time.
Share This Page
---
Leave A Comment
You must be logged in to leave a comment. click here to login
Comments