---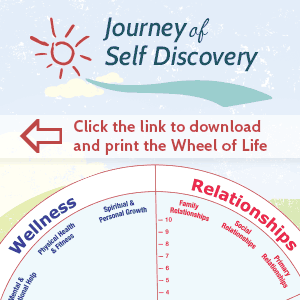 During week 2, you focused on learning more about yourself and defining what it takes to make you happy. Now it's time to set a goal and start improving your wellbeing. T
he Wheel of Life helps you to see your life and happiness from a different perspective.

Where to Begin


2.

Fill in each piece of the pie on the Wheel of Life. Choose a number from 0-10 for each category.



Example: Say you are lacking when it comes to money management, but you are moderately happy with your current income. You might shade in the piece for "money management" up to the number 2, while you shade in the piece for "income now" up to the number 7.
3.

Once the entire wheel is filled in, it's time to determine which area(s) you need to work on.

Setting a Goal


4.

Make a list of specific goals based on the parts of the wheel (or pie pieces) that have the lowest scores.



Example: For the example above, you shaded in "money management" only up to the number 2. So one of your goals might be to create a budget you can stick to. Be as targeted as you can. Your goal might be "Create a budget and save at least $200/month." If you also scored low in relationships, you might set a goal to "Open yourself up to new opportunities to meet a partner" instead of just "Start a romantic relationship."

5. Read your goals aloud and check off the ones you believe truly come from within. Close your eyes and see yourself reach each goal.
-Is it going to make you happy?

-Is it going to make you successful?

-Is this your goal or someone else's goal?
6.

Choose the goal that'll help you reach the other ones. For example, if you manage your money better, you'll be able to afford more activities that might help you meet a future partner. You also want to ensure your OWN happiness before you get into a relationship (or improve upon your current relationship).

7.

Once you've chosen a goal, define the time frame. Write down an exact date. Give yourself enough time, but not so much that you lose sight of the rewards at hand. When you define this, find a peaceful place and sit in a comfortable position. Close your eyes and envision reaching your goal. Imagine your feelings when you look in the mirror and see happiness on your face. See this in your eyes and smile. Feel the excitement and weight lifted from your shoulders.
Next week, we'll help you set up a plan to track and measure your progress. Spend this week choosing the right goal for you, and remember, you're that much closer to happiness!
*For an overview of the Journey of Self Discovery, refer to

Week 1

. To ask questions or share your experience, use the hashtag:

#PSJourney.

If you missed last week's, you can also go back to

Week 2.
Share This Page
---
Leave A Comment
You must be logged in to leave a comment. click here to login
Comments