---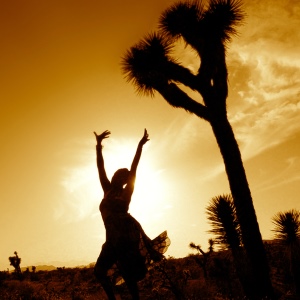 Whether you feel as though you're firmly in touch with your feminine side or you cringe at the idea of being girly, it's important to remember that both men and women have elements of the divine feminine. Understand what this powerful internal force is, and discover how you can embrace the sacred feminine and bring it into the forefront of your life.
Get to Know the Five Feminine Energies
As you begin to understand your internal power, it's important to become familiar with different types of feminine energies. Get to know Shakti, the multi-dimensional Hindu goddess who's the source of love and cosmic balance, and explore the five Shakti energies.
Para Shakti, or pure consciousness, reflects cosmic-level energy, while Iccha Shakti assists with your sense of decision making. Kriya Shakti involves powerful energy that helps you manifest desires and dreams, while Jrana Shakti relates to wisdom and knowledge. The most powerful form of Shakti energy is Kudnalini, which helps you use your internal power to affect your external reality.
Acknowledge Your Brilliance and Power
It isn't always easy to acknowledge the brilliance and power you possess, especially if you're not aware of just how much you hold inside. Once you understand the depths of your internal energy, however, it's much easier to embrace your sacred femininity. When you do so, you'll undoubtedly find that those around you can also let their inner power shine.
Awaken Your Creativity
Exploring your sense of creativity is an effective and engaging way to embrace the divine feminine inside. When you're opening yourself up to new beginnings, surveying distant horizons, and honing advanced skills, you're also stoking the fire within and igniting new sources of energy.
Practice Compassion
If you don't already practice compassion on a regular basis, there's no better time to start. Begin by treating yourself with compassion, a basic component of essential self-care. If you're not accustomed to nurturing yourself in this way, don't hesitate to reach out for help as you become familiar with your internal feminine energy. A tarot reading can uncover some of the issues you're struggling with and help you better understand how to move past them.
Reconnect With Mother Earth
When in doubt, go outside and reconnect with the earth. Simply letting your bare feet touch the soil beneath can jump start that connection, and lying face down on the earth can give that link an extra boost. Either way, you'll feel re-energized from the earth's touch reconnected to the feminine energy within.
Unlock Inner Power With Crystals
When you need a physical reminder of the internal power you possess, crystals are an intuitive choice. For a direct connection to the heart chakra and emotional intelligence, pink crystals offer a direct link to your inner influences. For a combination of womanly power and warrior energy, amazonite balances male vitality with divine femininity. If you're not familiar with using crystals, chat with a psychic online for personalized advice.
No matter how you embrace this inner power, remember that this divine sensation isn't found solely in women. Follow these steps to awaken your sacred feminine, explore hidden creativity, and unlock your inner power.
Share This Page
---
Leave A Comment
You must be logged in to leave a comment. click here to login
Comments