A Gratitude Journal Puts You In Touch With What You Treasure In Life
Published Date 11/21/2013
Category: Life, Destiny & Meaning
---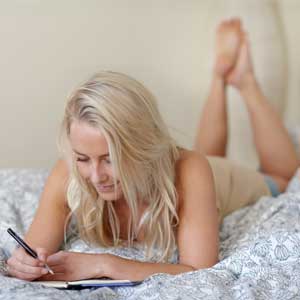 Oprah Winfrey began keeping a gratitude journal years ago and encouraged her viewers to do the same. One of the hosts on Oprah Radio, Michael Losier, told her website that a journal helps attract positivity into people's lives.

"Decide today that you are going to reduce negativity in your life by getting rid of the negative people, the negative thoughts," he said. "Get in the habit of appreciating things."

Negative thinking can have a hurtful effect on the quality of your life. When you feel better about yourself, pride, confidence and happiness start to take their rightful place in your day-to-day experiences.

Still, we have a tendency to remember hurts instead of the good things that come our way, so a continuous reminder of what's positive in our lives is a great way to keep negative thoughts at bay. Keeping a gratitude journal, where you list things you're thankful for, achieves this by allowing you to record your thanks for the things that are right in your world.

Where To Begin?
There are two schools of thought on how often you should write things in your gratitude journal. Some people recommend making it a daily habit, while others say writing two or three times a week may be enough. Similar to keeping a diary, sometimes feeling that you "have" to write something every day becomes a dreaded task. Find your own rhythm on this point.

The number of entries doesn't matter. Rather than try to record a top 10 list, a couple of things may be enough. They may be physical items that make you happy, or the people and circumstances that have made a positive impact on you. Reflect on what your life would be like if you didn't have them around.

The point is to be thankful. If you need some guidance, ask your spirit guides for help in understanding what's really important to you. Confer with telephone psychics or participate in an online psychic chat - either way, you'll gain insight that you may not have considered. And be sure to thank your guides for their inspiration.

Go Beyond The Obvious
Think carefully about what you treasure. If you love your home, for instance, write about its physical comforts, but also about why you enjoy coming home to a comforting, protective space each night.

A gratitude journal offers you an excellent opportunity to be grateful for yourself as well as everything around you. Write about your special talents, because often they not only give you pride and joy, but also benefit other people. Having a good voice or artistic flair are great attributes, but making others happy because you're a good listener or have a cheerful disposition are also abilities.

Lastly, to rid yourself of negativity toward those you don't like, think about some of their good points and include them in your journal. They may still not be people you'll be close to, but acknowledging them in a positive light can put you in a better frame of mind.
Share This Page
---
Leave A Comment
You must be logged in to leave a comment. click here to login
Comments