---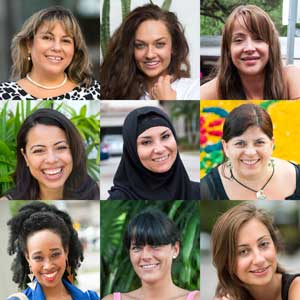 March 8, 2019 is International Women's Day... Throughout history, women have had a significant role in the unfolding of events. As you uncover some of these inspiring figures, you may find yourself particularly drawn to one. A past life reading may help you learn more about where you fit in one of these stories.
1. Hatshepsut, 1507-1458 BCE
Hatshepsut ruled as queen of Egypt alongside her half brother and husband, Thutmose II. When he died, she acted as regent for her infant stepson, later taking on the powers of a full pharaoh. At her command, she was depicted as a man in many works of art from the time. Under Hatshepsut's reign, Egypt enjoyed a period of prosperity and great building. She was responsible for the construction of the Temple of Deir el-Bahri where she was later buried.
2. Anne Boleyn, 1507-1536
Anne Boleyn is a fascinating figure in history, often painted as a manipulative vixen. In a time when women were expected to quietly submit, she refused to become the mistress of King Henry VIII and instead insisted that he first divorce his wife and make her queen. Her demands led to the English Reformation and England's break with the Catholic Church, changing history forever.
3. Queen Nzinga, 1583-1663
As sister to the king, Nzinga held a position of importance among the Mbundu people throughout her life. She participated in key negotiations with the Portuguese, which kept the slave trade from expanding into Central Africa for many years. She ascended to the throne after her brother's death and continued her brave work battling the slave trade. Into her 60s she continued to lead troops into battle. Though the Portuguese attempted to capture or kill her many times, she lived into her 80s and died peacefully.
4. Abigail Adams, 1744-1818
Wife of the second president of the United States, Abigail Adams used her position and influence to champion women's rights, women's education, and an end to slavery. She raised her four children largely alone while maintaining a rich correspondence with her husband. Her son John Quincy Adams went on to become the sixth president of the United States.
5. Ada Lovelace, 1815-1852
Ada Lovelace is credited as being one of the first computer programmers — a feat that's particularly striking considering the fact that she was a woman in the 1800s. She theorized how an engine could repeat a set of instructions and how codes comprised of letters, numbers, and symbols might be used in such devices. Her contributions to the computer science industry weren't fully appreciated until after her death.
6. Elizabeth Blackwell, 1821-1910
The first woman to get a medical degree in America, Elizabeth Blackwell was instrumental in helping women gain acceptance as doctors. Her career choice was inspired by a dying friend who told her that having a female physician would have made her experience easier. Blackwell battled discrimination throughout her education but persevered to become a successful doctor. She later opened her own medical college in New York City.
If you want to find out more about your own place in history during your past lives or on your present course, speaking with online psychics may help.
Share This Page
---
Leave A Comment
You must be logged in to leave a comment. click here to login
Comments