---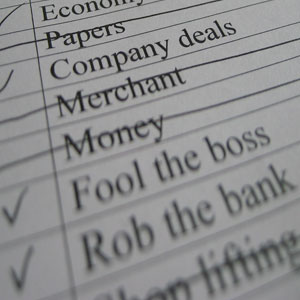 Creating a bucket list of things you'd love to accomplish in your life may seem a little morbid at first, since the term comes from "kicking the bucket" - and we all know what that means. But if you think about it as a way to set lifetime goals and not just a list of joy rides, it can be a guide to being at your best in all aspects of life.

If you're looking for more direction and fulfillment in life, a bucket list that looks ahead as much as 15 to 20 years will always give you something to strive for or to challenge the status quo when you're in a stagnant period. The idea is to create goals that will make a difference in your present circumstances as well as your future. Here are six tips to help you get started.

1. If it helps to break it into shorter intervals, do two lists. One will give you an overall view of the things you value most, and the other may be the actual "to do" list that gets you where you want to be.

2. Cover all aspects of your life by creating categories on your list. Career, finances and education may go together, while physical or health goals may fit alongside developing a better mental outlook and emotional balance on a daily basis. Other categories may focus on family or community service. Don't forget to include a list of things you want to do that are just plain fun.

3. Think about the special traits and skills you have that will fit with the achievements you envision. If you've always wanted to be a painter, for instance, start small with a local art class. From there, you might join a community of artists who meet regularly to critique one another's work.

4. If you want some help focusing on your goals, telephone psychics can offer you the guidance you need to hone in on areas of your life that need improvement. After consulting with psychics, people often find they get closer to achieving their true destiny.

5. Nothing is set in concrete. You can change your goals at any time and refine the list as you get a clearer image of what's truly possible and which items are long-term desires. You'll create unnecessary stress for yourself if you don't achieve certain things within a given timeframe, so don't set time limits.

6. To make the list more manageable, consider trimming it to focus on the goals that are really significant to you. Spend some time brainstorming about these things, and the ones that are most achievable at the present time will probably jump out as the obvious entries to work on first.

Some people walk through life not knowing what their purpose is and lacking an understanding of their true destiny. With the help of a lifetime bucket list, you can have the direction and confidence you need to go after the things that fulfill not only your needs, but your heartfelt wishes.
Share This Page
---
Leave A Comment
You must be logged in to leave a comment. click here to login
Comments