---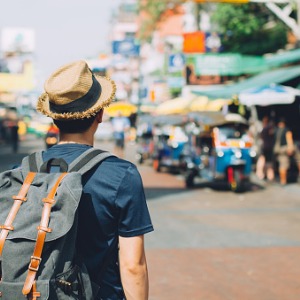 Many people shy away from the idea of taking a trip on their own. Traveling by yourself isn't as daunting as you think, and sometimes a solo vacation is exactly what you need. It is beneficial in so many ways. Here are five reasons why you should consider taking a solo trip this summer.
Builds Confidence
If you're nervous about traveling alone, use the opportunity to face your fear. Book the trip regardless of how apprehensive feel. If you're unsure of where to go, call a phone psychic who can point you toward the right destination. Then pack your bags and head out. With only yourself to rely on, it is an empowering experience. You'll return with a newfound confidence that you're more capable than you give yourself credit for.
You Can Do Whatever You Want
Sure, traveling with friends is great. It's nice to share the experience with someone. However, the benefit of traveling by yourself is that you get to do whatever you want. You don't have to discuss it with anyone. If you decide to explore a jungle, chant with monks, or paint a monkey's nails, you can. Similarly, if you want a chill-out day, you won't feel like you're letting friends down by spending the day resting in your room.
You Get to Know More Locals
When traveling with a friend, you spend most of your time talking to her. On your own, you'll engage more with the locals and make new friends along the way. One of the best reasons to travel is to meet new people and immerse yourself in different cultures. The more you get to know the locals, the more you fully experience their way of life. It's an immensely enriching experience.
You Become Comfortable With Yourself
If you struggle with being alone, a solo trip is recommended. Yes, it will feel uncomfortable — but that's exactly why you need to do it. You need to break out of your comfort zone. The more you wander a city, town, or village, the calmer and more at ease you become with yourself. If eating alone makes you feel weird, don't live off takeout. Step into a restaurant, sit down, and eat a meal. Do it often enough, and it won't bother you after a while. Eventually, you'll start enjoying your own company.
Solitude Nourishes the Soul
We live in a frenetic world, bombarded with information and always surrounded by people. We've forgotten about the benefits of solitude. Traveling alone gives you time to quiet the mind. If you're facing a major life decision or are at a crossroads, taking some time away to reflect can bring some clarity. Most psychics encourage solitude, as it provides a space to connect to your spiritual side and listen to your intuition.
Travel is always a rewarding experience. Solo travel throws in a few extra rewards. Don't cancel travel plans because you don't have a travel partner. Just pack your bags and embrace your solo adventure.
Share This Page
---
Leave A Comment
You must be logged in to leave a comment. click here to login
Comments