---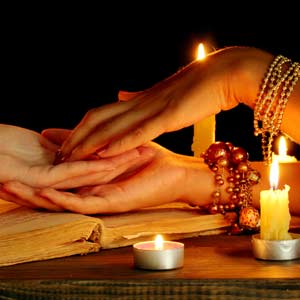 Seeing a therapist used to be the trendy thing in Hollywood, but that trend has shifted to a different kind of advice. Celebrities are now seeking the advice and readings from psychics from Hollywood to New Orleans. Some of these celebrities have been spotted leaving their psychic while others have had public readings on live TV. These five celebrities all have used the services of a psychic for one reason or another.
Brad Pitt
Brad Pitt is obviously doing something right if you judge him by his beautiful wife, his beautiful family, his philanthropy and his near-flawless career. Pitt's success may be, at least in part, attributed to his psychic. Pitt is known for getting advice and readings from celebrity psychic Ron Bard. Whether or not his good fortune is related is hard to tell, but Pitt is certainly taking advantage of using a psychic to help with life and decisions.
Cameron Diaz
This blonde beauty has been spotted in West Hollywood leaving Mrs. Grace at Psychic Tea Leaf Readings. Apparently, her reading included marriage and kids in her future, although Diaz is still waiting for that prophecy to come true. The actress still may be getting career advice from her psychic while the husband and kids are on hold.
Chelsea Handler
The comedienne may or may not have gotten advice about taking her show to Netflix after seeing her psychic. Handler is known for seeking the help of world-renowned psychic James Van Praagh. Although the New Jersey native has brought him on her show for comic relief, she also uses him for more serious matters. Handler has been known to use Van Praagh as a psychic medium to communicate with her brother who died when she was young and her mother who died more recently.
George Clooney
This story is so weird, it must be true. George Clooney visited a psychic to communicate with his best friend after it died. "It" being his pot-pelly pig and pet of 18 years. The pig, weighing in around 300 pounds, was even reported to occasionally share a bed with Clooney. Clooney was happy to find out from the psychic that his pig, Max, still visited and was happy in his after-life.
Angelina Jolie
Apparently visiting a psychic runs in the family, as Angelina Jolie, wife of Brad Pitt has been known to see a psychic as well. The Tomb Raider star visits a psychic in attempts to communicate with her mother who passed away. It's possible she is seeking advice from her own mother to help raise her six kids. Pitt and Jolie are parents to three biological children and three adopted children. Jolie has publicly stated the deep loss she felt when her mother died in 2007.
Whether it's to have medium to talk with a lost loved one (human or not), or it's to get career advice, these celebrities are using psychics to help see the future, get advice and to communicate or help get closure over the loss of a loved one.

---
Watch celebrities getting readings with Psychic Source Advisors!
Share This Page
---
Leave A Comment
You must be logged in to leave a comment. click here to login
Comments