4th Annual Day of Light Celebration Spreads Love and Light Across the Globe
Published Date 6/21/2017
Category: Life, Destiny & Meaning
---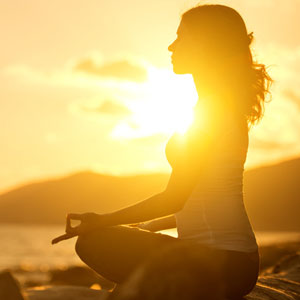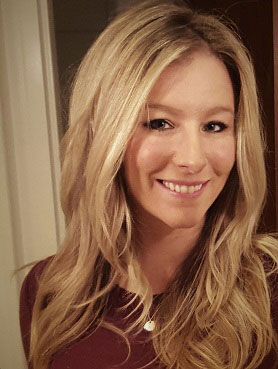 by Jessica Campbell
-Staff Writer
If you've been a part of the Psychic Source community since this time last year, you might recall that the summer solstice marks our much-anticipated celebration of love, light, and peace!

Each year, we welcome people of all nationalities, faiths, beliefs, and walks of life to join in on a live meditation to reflect the highest, most loving vibration across the planet. By focusing our energy on this together, at the same time, we are able to put these intentions into the Universe. Whatever it is that you would like to give or receive, the Day of Light is the perfect opportunity.

It seems as though now more than ever, our world has seen great adversity, conflict, and suffering. While much of this can feel out of our control, we have the power to come together, take a stand, and unite for what we believe in. There is nothing that can stop our wishes and intentions for abundance, harmony, and acceptance.

For previous Day of Light events, we've hosted a Facebook meditation during which Advisors, staff, and Psychic Source community members spend 15 minutes participating in a live, guided meditation. This year, the meditation will focus on the Manipura Chakra, the center of your warmth and fire, located between your navel and solar plexus. If you fear you have trouble focusing on your own inner light and energy, this guided meditation will be exactly what you need to find courage and confidence. This is also an exercise that can and should be used even after the Day of Light. (The audio of our Guided Meditation will be made available as a podcast debuting on June 24th.)

In addition to the meditation, there will be an added serene visual element! To calm your mind and focus your thoughts, we'll be broadcasting a beautiful sunset over the water view (weather permitting).

Instead of disconnecting, let's use social media to connect for the right reasons and make the changes we wish to see in the world!
Information and updates on exact timing can be found on our Facebook page.
We encourage everyone to share their intentions using #PSDayofLight on Facebook, Twitter, and Instagram! Below are a few posts from our 2016 Day of Light event to help inspire you.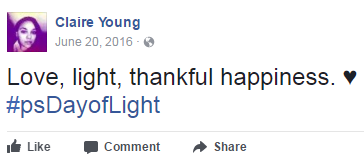 Share This Page
---
Leave A Comment
You must be logged in to leave a comment. click here to login
Comments