---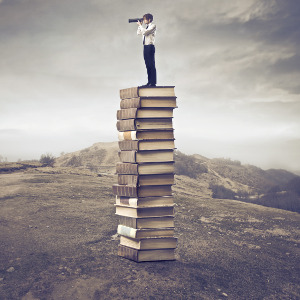 From Neale Donald Walsch and Dr. Wayne Dyer to Louise Hay and Sylvia Brown, the world is not short of spiritual writers who seemingly have the power to reach into your soul and inspire you to do great things. There is little discounting the inspirational effect of these spiritual writers and psychics, but it's possible to draw spiritual inspiration from the most unlikely sources. Here are four spiritual life lessons to learn from business writers.
Do the Most Important Things First: "Eat That Frog!" by Brian Tracy
Bestselling author and professional speaker Brian Tracy advocates the metaphor of eating a live frog each morning. In other words, get up each day and get the most difficult thing on your to-do list firmly out-of-the-way. After eating a live frog, your day is only going to get easier. In relative terms, this book highlights the problems procrastination causes. By accomplishing the things that you would ordinarily avoid, you can relieve stress and live a more purposeful life.
Failure Precedes Success: "Go for No!" by Richard Fenton and Andrea Waltz
Too many people believe that the path to success is a straight one; a road where no is a dirty word and rejection is unheard of. This belief often causes people to change paths. Go for No! authors Fenton and Waltz argue that success is only ever achieved after experiencing repeated failures. In other words, only by hearing the word no will you ever get the fabled yes. Although this books primarily speaks to salespeople, it will teach you just how powerful perseverance is.
Personal Effort Pays Off: "How to Win at the Sport of Business" by Mark Cuban
Entrepreneur, investor and Shark Tank host Mark Cuban is not short of a smart idea or two in his book, How to Win at the Sport of Business, and many of them apply equally to life. Cuban's insight into effort is particularly inspiring. His mantra is that if you put in enough time to become an expert at whatever it is that you're doing, it will pay off. Why? Simply because most people don't. Your personal amount of effort is something that is within your own control, no matter what you want to achieve.
Share Your Stoke: "Surfer's Code: 12 Simple Lessons for Riding Through Life" by Shaun Tomson
Business consultant and world champion surfer Shaun Tomson draws upon his life as a surfer and successful business person to offer you 12 simple lessons. One of the most profound is perhaps his advice to pass on your stoke: to share knowledge and give back. Stoke is that feeling surfers get when they catch a wave, but it is easily applied to life in general and the need to share with others. By paying it forward in this way, you stand to gain in ways you might not even realize.
If you would like to explore spiritual life lessons in greater depth, why not get a psychic reading? The insights on offer are invaluable.
Share This Page
---
Leave A Comment
You must be logged in to leave a comment. click here to login
Comments