---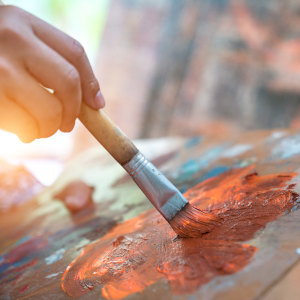 Whether you're decorating your home or adding new clothes to your wardrobe, the colors you choose can impact your overall mood. Certain shades and hues work best for those born under different astrological signs, so consult an astrology advisor and this guide before you invest in home décor pieces or new clothing.
Pisces
Gem-inspired tones and hues that draw inspiration from the ocean are especially appealing to those born under this water sign. As a Pisces, you'll likely feel more inspired and confident when you're surrounded by a palette that includes sea greens and deep blues. When you're putting together an outfit, consider combining neutral shades with eye-catching shades of yellow or peach to stay on the bright side.
Aries
An Aries tends to wear their confident and passionate energy on the outside, so showcase that energy through a palette that includes deep colors like fiery red, blood orange, and intense eggplant. If you're feeling overwhelmed, lighter tones like cream and off-white can stave off some of that energy, although black is a color to avoid since it doesn't harmonize well. Add a splash of color to your kitchen or living space by painting the cabinets or a single wall red.
Taurus
Taurus links to the energy of the earth, so natural earth tones are some of the best. Emerald, forest, and other shades of green work well in your home, while maroon and brown are good options when you're picking out apparel. You may want to incorporate black and white to tone down the other shades as well.
Gemini
Geminis are often naturally creative, affectionate, and gentle, so the color palette should reflect these traits. Green comes in a wide range of shades, so even when you're feeling a little fickle, you can still find a hue that complements your mood. Mix in shades of pink, along with neutral black and white. Steer clear of oranges and reds as those bright shades can cause you to feel restless energy and take away your calm peace of mind.
Cancer
As a Cancer, you're likely intuitive, sentimental, and always thinking on a deeper level. In order to draw inspiration from those traits, incorporate unexpected jewel tones into your home décor. A beautiful purple wall or a turquoise rug can satisfy that need and help you feel at peace. In your apparel, use colors that draw inspiration from the beach, such as blue, yellow, and white. Burgundy and black may cause you to feel gloomy, so steer clear of these shades.
Leo
Leos are often self-starters, motivated, and strong-willed. Dress for success by incorporating regal tones like purple, gold, and red. Neutral beige and soft pastels simply don't work with your personality traits, so stick to bold shades that showcase your ability to close the deal and move forward with success. In the home, a Leo may feel inspired when surrounded by elegant, gilded details, such as gold-infused flatware or sparkling accent pieces. Nothing but the best for royal Leo.
Virgo
Someone born under the Virgo sign tends to be balanced and calm, so neutral tones are best for the wardrobe. Incorporate brown and gray as the base colors, then weave in some light blue, peach, and mauve to add a splash of color to your apparel. You may feel a little out of sorts in bold shades, such as orange and red, so stick to more neutral options. For home décor, incorporate calming earth tones, such as a deep blue couch or a turquoise accent wall.
Libra
Libras often have fresh energy that they can share through their harmonious personality traits. Those under this sign often want to avoid looking gaudy or standing out, so tan, white, and soft pink make it easy to blend in with the crowd. Black is a classy and chic option as well. However, steer clear of too many bold colors in your wardrobe, as these won't allow you to fulfill your need to keep it simple. When you're shopping for home decorations, neutral gray and white are balancing colors for shades of green, such as jade.
Scorpio
Scorpio is often passionate and moody, so finding the right balance of colors may pose a challenge depending on the mood of the day. Intense feelings can be worsened when you're surrounded by severe colors, such as fire-engine red or blood orange. Stick to ruby-inspired hues, which will ignite the passion without causing too much discord in your energy. You'll look great in dark purple, raspberry, and rust, all complemented with black. You can always mix and match with unique elements in your wardrobe.
Sagittarius
With your energy and optimism, your personality can brighten up any room. The best colors for those born under the Sagittarius sign include royal blue, bold red, and purple. Black, brown, and other murky, dark colors can actually impact your positive energy for the worse, so it's best to avoid these shades. Sagittarius can also feel inspired when surrounded by jewel tones, such as yellow, purple, and blue.
Capricorn
Capricorn's common personality traits include trustworthiness and stability. Incorporate those traits into your home by choosing stable colors, such as deep blues or neutral tones. You don't want to do too much and cause an overwhelming atmosphere. In your apparel, khaki and gray are neutral shades that can complement your personality as well. If you're feeling gutsy, try pairing a pair of gray pants with a bright red top. Yellow tends to make Capricorns feel antsy and uneasy, so stick to neutral and cool tones.
Aquarius
As a dreamer, Aquarius can draw inspiration from the sky. Shades of blue with silver accents will inspire you to continue to dream big and go for your goals. Your personality traits also correspond well with other natural tones, such as yellow, lilac, and even neutral white. If you feel like taking a leap, use sky blue paint on the ceiling of a room in your home where you can spend time daydreaming about your future.
Take advantage of the colors that inspire you and impact the energy you feel based on your astrological sign. If you're having trouble deciding which colors are best for you, an online psychic can provide you with additional insights.
Share This Page
---
Leave A Comment
You must be logged in to leave a comment. click here to login
Comments