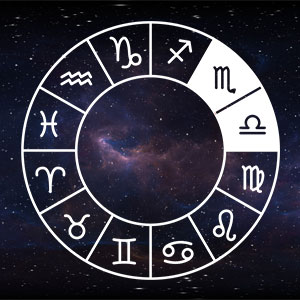 You may be wondering what it means to be born on the zodiac cusp. Are you both signs? Not at all. Here's what you need to know if your birthday falls on a Cusp.  In this case we are looking at the Libra-Scorpio Cusp of Drama and Criticism (October 19-25). You may have been born in the very first minute of the Sun's ingress to Scorpio - and you are a fully-fledged Scorpio. However, you will have compelling influences from Libra. The Moon, Mercury, and Venus travel near the Sun, so there's a distinct possibility you could have the Sun in Scorpio and one or more personality planets in Libra. 
The Libra-Scorpio Cusp is influenced by alluring Venus, the ruler of Libra, and powerful, transforming Pluto, Scorpio's ruling planet.  The Libra-Scorpio cusp brings together the Air and Water elements, the seventh and eighth houses of the Zodiac: relationships, therapy, marriage, and partnerships. 
It is here that love, beauty, wisdom, and passion intersect. Combining these intense energies makes for a magnetic and beguiling individual. Libra is gracious and balanced; Scorpios are private and mysterious.
Libra-Scorpio cusp people are intelligent, sexy, and masterful at maintaining a curated and controlled environment—a stylish, secretive, and unique signature. They sometimes develop a persona that keeps others at arm's length, yet they can be found teaching and mentoring with great feeling and integrity.
Ruler: Venus / Pluto
Symbol:  The Scales / The Scorpion 
Element:  Air / Water
Expression: Cardinal / Fixed
Your Strengths:
Charismatic and artistic.
Charming, sexy, and mysterious with a dose of wit. 
Honest, forthright, and responsible.
Powerful with a strong sense of self.
Intellectual.
Your Vulnerabilities:
At times, you fall into cynicism. Healthy skepticism is reasonable but being cynical is limiting. 
You're a critical thinker, again terrific, but you can use judgment as a means to unhealthy isolation. 
While you're hiding away, you can become detached, rigid, or stubborn. You have no difficulty setting boundaries, but sometimes others perceive you as uncivil when the door slams shut. 
Libra-Scorpios are usually experts in their fields and whatever interests them. They make excellent teachers and mentors, professionally and informally, sharing their knowledge and expertise. 
Even the most composed and responsible Libra-Scorpio has a wild and theatrical side. The Cusp of Drama connects Libra's flair for the dramatic with Scorpio's profoundly emotional nature. They will not hesitate to affirm their values or express themselves, which they can do with great panache. 
Happy Birthday Cusp of Drama and Criticism! 
Thanks for reading. I'm so glad we're on this journey together. - Moira
The Tipping Point - Life on the Cusp
Psychic Moira's entire 13-part Born on the Cusp series exploring the relationships between two Zodiac signs can be found here. 
Get a Reading with Moira x7776
In-house Astrologer Moira writes the weekly Love Horoscopes for Psychic Source. Formally educated in psychology and theatre, She's also a Certified Transpersonal Hypnotherapist and Reiki Master.
A professional Astrologer since 1986, Moira considers herself to be lifelong student of the esoteric arts. She travels extensively, leading workshops centered on soul-mate astrology, past life exploration, and psychic development.
Her passion is helping others find clarity and connect with their potential and purpose. When not working with Psychic Source customers, Moira volunteers with her local animal rescue group.