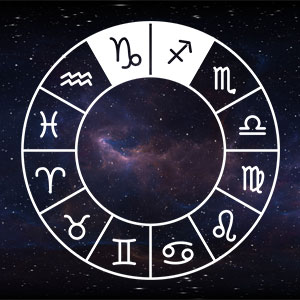 Throughout this 12-part series, we've spent a full-year looking at what it means to be born on the Cusp, the tipping point when the Sun departs one sign and enters the next. The date and time of birth determine our Sun Sign; however, if our birthdate falls very near the tipping point, we benefit from both worlds.  
Let's take one final look at the last Zodiac Cusp of the calendar year.  If you missed any of the previous articles in this series or want to review them again, a handy link is provided at the end of the article.
Sagittarius and Capricorn: The Cusp of Prophecy December 18 - 24
Sagittarius' fiery intelligence and optimism mingle with Capricorn's determination and tenacity. These optimistic leaders show a positive attitude towards life, displaying great confidence like Sagittarius, and true to Capricorn nature, they follow through with vitality, keeping their eye on the prize. 
People born during the Cusp of Prophecy have a remarkable ability to predict the needs of others and the power to follow through and deliver the goal. Optimism meets practicality. They seek serenity over restlessness, and they are wise and intuitive. 
Sagittarius's cosmic avatar is the Centaur, part horse/part archer. Valuing independence, this is an adventurer, a risk-taker with the ability to aim true and travel far. 
Capricorn's glyph, an intricate V-shaped symbol with a curling tail, represents a mythical creature, the "sea goat."  People also show Capricorn as the sure-footed, high climbing mountain goat, but I like the traditional depiction, and we could agree that a mythical swimming goat is very cool.
Ruler:  Jupiter / Saturn
Symbol:  The Archer / Sea-Goat
Element:  Fire / Earth
Expression: Mutable / Cardinal
Your Strengths:
You are responsible, witty, caring, and driven!
You make the perfect business partner (and a great friend) because you are fair, generous, and unfailingly loyal.
You tend to be calm, bright, centered, and successful. 
Drawn to higher knowledge and world adventure, you always want to expand your mind and find new experiences. 
You're happiest when you can make a meaningful and positive influence in the lives of others. 
Your Vulnerabilities:
People may say you're moody, but then who isn't? Still, you can be intense, and a bit closed off when things don't go as planned. 
Because you're so brilliant, you can become uncooperative and impatient, alienating your constituents.
Perfectionism and an intense need to control your surroundings can lead to isolation. 
A combination of fire and earth elements plus mutable and cardinal expressions make the Sagittarius - Capricorn cusp a true visionary and world explorer. The Cusp of Prophecy indeed is the best of both worlds.
Happy Birthday Cusp of Prophecy! 
Thanks for reading. I'm so glad we're on this journey together. - Moira
The Tipping Point - Life on the Cusp
Psychic Moira's entire 13-part Born on the Cusp series exploring the relationships between two Zodiac signs can be found here. 
Get a Reading with Moira x7776
In-house Astrologer Moira writes the weekly Love Horoscopes for Psychic Source. Formally educated in psychology and theatre, She's also a Certified Transpersonal Hypnotherapist and Reiki Master.
A professional Astrologer since 1986, Moira considers herself to be lifelong student of the esoteric arts. She travels extensively, leading workshops centered on soul-mate astrology, past life exploration, and psychic development.
Her passion is helping others find clarity and connect with their potential and purpose. When not working with Psychic Source customers, Moira volunteers with her local animal rescue group.