---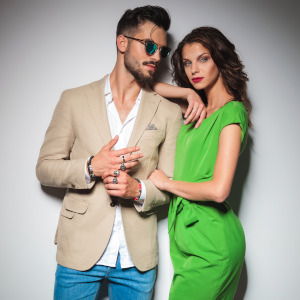 Although you might not realize it, your love of tailored pants or glittery jewelry could be the result of your zodiac sign. Consider what your sign says about your style to help you put together the perfect wardrobe.
Aries
You're confident and determined, so your ideal wardrobe contains plenty of classic pieces, such as jeans, blazers, and button-down tops.
Taurus
You love comfort, but you also don't mind making a bold fashion statement. Look for clothing made with natural fibers in earthy tones to please your pragmatic side, and then make your passionate side happy with bold accessories.
Gemini
You're a risk-taker who doesn't want to feel stuck with one signature style. Your perfect wardrobe consists of bright colors, stylish shoes, and glam accessories you can mix and match to create something different every day.
Cancer
You're a romantic sign, so clothing with feminine cuts in soft colors are perfect for you. Items with vintage charm and classic elegance will be the pieces you turn to again and again.
Leo
You're known for your fiery personality, and your clothing style is almost identical. You feel most confident when you're dressed to the nines. Look for pieces that are glamorous, dramatic, and eye-catching.
Virgo
If one phrase could describe your style it would be ladylike yet functional. Your perfect wardrobe has plenty of classic pieces with tailored silhouettes and feminine charm.
Libra
No other sign can pull off effortless style like you can. That might be why so many models are fashion designers are Libras. To put together your ideal wardrobe, look for modern pieces that make it easy for you to stay ahead of the trends.
Scorpio
You like to stick with tried and true staples, so your wardrobe likely consists of simple sheath dresses, classic jeans, and tailored black pants. While your signature look will never go out of style, don't be afraid to toss in the occasional pop of color.
Sagittarius
You're the most adventurous sign in the zodiac. As a result, your ideal wardrobe will have plenty of bright colors, bold prints, and head-turning accessories. You can then talk with an online psychic to help you create an outfit matching your mood.
Capricorn
You're the epitome of sophistication and love getting dressed up. Look for classic and traditional pieces you can style with the perfect accessories.
Aquarius
You aren't afraid to experiment, which is why your perfect wardrobe should consist of plenty of pieces you can use to create different styles. If you're not sure what type of outfit you should put together one day, a live psychic video chat can give you some advice.
Pisces
Your fun-loving and free-spirited personality looks great with bohemian-inspired pieces. Look for modern clothing that still has a touch of boho flair, such as silk tops and pastel-colored maxi dresses.
When you create a wardrobe based on your zodiac sign, you know you'll always have something amazing to wear for every occasion.
Share This Page
---
Leave A Comment
You must be logged in to leave a comment. click here to login
Comments