Venus Retrograde in Capricorn December 2021 - January 2022 by Psychic Moira
Date 12/17/2021
Explore More: Capricorn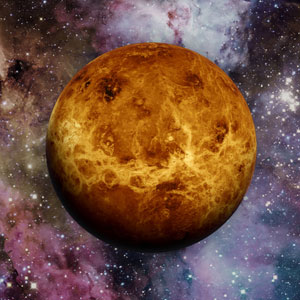 We frequently overhear rumblings about the cosmic collective and slower energy when planets are retrograde. Most of us have experience with Mercury Retrograde and the havoc it bestows, the unwelcome delays, and communication mix-ups about three times a year. But what does it mean for us when Venus, the planet of love and beauty, goes Retrograde? 
Venus Retrograde happens about every 18 months and lasts approximately six weeks. The planet of love and money is a double ruler depositing energy to Taurus, the second house - personal prosperity, and Libra, the seventh house - relationships.  
The days leading up to Winter Solstice and Christmas find Venus slowing down and then stopping and turning retrograde in Capricorn. Venus is in Capricorn for the entire retrograde, which begins December 19, 2021 and stations direct January 29, 2022.
Important Venus Retrograde Dates 
Venus entered the Retrograde shadow on November 17, 2021. 
Venus Retrograde begins on December 19, 2021, at 26° 
Venus Stations Direct on January 29, 2022, at 11° Capricorn
Venus Retrograde in Capricorn centers on commitment and responsibility. The planet of attraction, Venus, rules matters of the heart, so watch out for that ex who tries to wander back into the picture. The onus falls on you to decide whether or not you'll forgive and allow another round. Perhaps you will lean into the retrograde wisdom by seeking closure. You may say no thanks, well aware that your ex's previous actions are a valuable indicator of future behavior.  
A Lesson About Boundaries
All retrogrades offer a lesson. Venus, in Capricorn, is about boundaries. There may be power struggles in relationships, and the energy also affects circumstances in your career. Capricorn is cardinal earth, and it seems to go on and on, forgetting to pause and refresh. Seek healthy work-life balance.
Use this retrograde to pause, clear away confusion, and give yourself a break. Self-care is not selfish. Set aside some time for meditation, exercise, creative pursuits, and mystical exploration. Clear away the emotional debris of past hurts. Seek closure for yourself. Forgive. 
A Period of Breakthroughs and Breakdowns
The Venus in Capricorn vibration can feel heavy as we address trust, accountability, and power-sharing concerns. Deep feelings surface as the journey progresses, and Venus connects with transformational Pluto. We will see breakthroughs and breakdowns.
Unanswered questions remain, whether work or personal —fact check before getting enrolled in a conflict. We may face a few annoying revisions; still, the situation quickly resolves when we are calm, centered, and moving with integrity.
As Venus makes a seeming backward journey through goal-oriented Capricorn, we can focus our intentions on manifesting the life we desire and deserve. 
Thanks for reading. I'm so glad we're on this journey together. - Moira
Get a Reading with Moira x7776
In-house Astrologer Moira writes the weekly Love Horoscopes for Psychic Source. Formally educated in psychology and theatre, She's also a Certified Transpersonal Hypnotherapist and Reiki Master.
A professional Astrologer since 1986, Moira considers herself to be lifelong student of the esoteric arts. She travels extensively, leading workshops centered on soul-mate astrology, past life exploration, and psychic development.
Her passion is helping others find clarity and connect with their potential and purpose. When not working with Psychic Source customers, Moira volunteers with her local animal rescue group.