---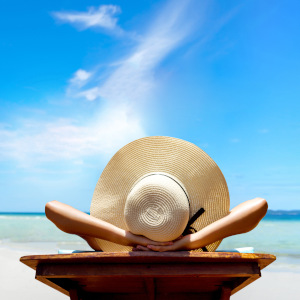 Summer is a season during which many people enjoy traveling and spending time away. Figuring out the perfect summer vacation destination is easier when you consider your Zodiac sign and traits, and then make a decision based on those factors. As you're planning your next getaway, check out these tips to figure out where you should go.
Pisces
With your fish sign, you're likely most comfortable when you're surrounded by water. This summer, plan a vacation somewhere that has a beautiful beach. During your trip, you can enjoy relaxing on the sand, swimming in the water, or even participating in exciting water activities like canoeing, kayaking, paddle boarding, or sailing. You may also enjoy booking a vacation on a cruise ship that will take you to a faraway beach.
Aries
An Aries often has the energy to burn, so an active vacation is more appealing. Those under the fire signs also have enthusiasm for their surroundings, so visiting amusement parks, riding in hot air balloons, or rock climbing all appeal to those who want to find the thrills and get their adrenaline flowing.
If you enjoy more physical activities, such as yoga or running, a long weekend at a yoga retreat or a road or trail race could also fulfill your vacation desires. Try consulting with an astrology psychic for a detailed reading on your perfect destination.
Taurus
As a Taurus, you enjoy the higher-end things in life, so a trip to a fine destination allows you to explore your connection to the material world. Paris, Vienna, New York City, and Palm Springs are all appealing spots to vacation and would allow you to indulge in great food, high-end shopping, and luxurious accommodations. If your budget is tighter this summer, even an upscale glamping trip on a houseboat or in a yurt could be a fun getaway.
Gemini
Fulfill your need to explore by spending your summer vacation driving cross country on the ultimate road trip. Rent an RV or climb behind the wheel of your vehicle and start exploring roadside attractions and historic locations along the way. Since a Gemini's mood can also change at any moment, it's also a bonus to have the option to change directions or visit different attractions as you drive.
Cancer
Cancer is a water sign, so those who fall under this Zodiac sign often enjoy vacationing near a large body of water. If you'd rather stay away from crowded beaches, you could reconnect with nature by booking a cabin next to a secluded lake. However, many Cancers enjoy the bustle of tourist areas that sit next to the water, so if this appeals to you, it's easy to find a hotel or rental property close to the ocean. You may enjoy taking walks on the beach, shopping for souvenirs, or even collecting seashells.
Leo
Adventure seeking Leos tend to prefer outdoor destinations, such as music festivals, beaches, and hikes through the desert. Those born under this fire sign often crave the heat, so a vacation to Las Vegas could be the perfect summer plan. In this thriving city, it's easy to find something to do at any time of the day or night. Leos also tend to enjoy staying in places to dance, bars, and other late-night attractions, so Las Vegas is perfect for fulfilling those needs.
Virgo
As a Virgo, you will probably have more fun on a well-planned, shorter vacation. Spend a few days in the big city exploring museums and galleries or plan a vacation that involves activity, such as a yoga retreat or white-water rafting. If you're looking for a way to give back, you could even spend your vacation volunteering with an organization like Habitat for Humanity, which hosts various trips to help build and work on projects in developing communities.
Libra
A trip to a faraway destination is hardly a vacation to a Libra, so a staycation may be a better option for you this summer. When your mind is always active, taking several days to get out of your normal routine can help you feel rested and calm. Sleep in, go for long walks, watch movies, and slow down for a true vacation.
Scorpio
Fulfill your need for water by planning a trip to the beach, a lake, or even camping near a river. Scorpio is another sign ruled by the water element, so spending the day on a boat is appealing as well. Some Scorpios also find excitement when visiting cities with vibrant arts and cultural scenes, such as Austin, Los Angeles, or New York City.
Sagittarius
Connect with nature this summer by spending your vacation in the outdoors. You can keep your costs down by going camping or backpacking, although a relaxing trip to a natural hot spring may appeal to you more. As a trailblazer, your need to push the limits and survive will be fulfilled on a camping or outdoor trip.
Capricorn
Practical Capricorns are often looking to stretch their vacation budgets, so simple comfort wins out over luxury. Booking a vacation rental home rather than splurging on a pricey hotel will likely help you enjoy your trip more, but make sure to leave work at work and really take some time away. Put your feet up, watch your favorite movies, and explore your surroundings.
Aquarius
Focus on the big picture by planning a trip somewhere with others who want to help others as you do. During your getaway, you'll crave mental stimulation or you'll likely start to feel bored. Sign up to volunteer with an organization that will take you to a different location to build a community.
No matter where you fit into the Zodiac signs, you can enjoy a more fulfilling vacation when you book a trip based on the traits and characteristics of your sign. If you need more guidance, an online psychic reading could provide you the insights you want as you plan your getaway.
Share This Page
---
Leave A Comment
You must be logged in to leave a comment. click here to login
Comments