---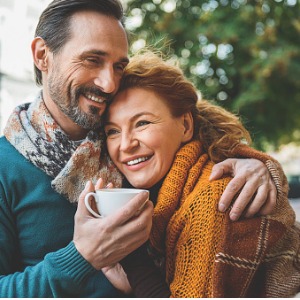 Autumn is in full swing, and it's the ideal time to cozy up to the one you love. What does this fall month have in store for your love life? Discover October love tips for every horoscope.
Aries
Arians rarely have qualms about devising and carrying out plans, and this autumn month is no exception. No matter how you'd like to see your relationship evolve this October, you can steer your romance in the right direction.
Taurus
Not everything is fair in love, even for Taureans. October is likely to start off a little rocky, but by stepping back, practicing some self-care, and being your usual persistent self, you'll be back on the road to romance in no time.
Gemini
Something must be in the air this month, as Geminis are feeling emotions from all directions. Focus on the present, talk with a live phone psychic, and do your best to process those loving feelings without feeling overwhelmed.
Cancer
Cancers are known for keeping things to themselves, but this month is no time for secrets. Let your love know how you truly feel, and you might be surprised to receive a passionate response in return.
Leo
It may be cooling off outside, but for Leos, things are just starting to heat up. Direct all that excess energy toward romance, especially at the beginning of the month.
Virgo
Ever feel like your relationship could be perfect if you were, too? This October, Virgos have the opportunity to turn that impulse on its head. Embrace your flaws, and any worthwhile partner in romance will, too.
Libra
Libras might seem serious and straightforward, but you're brimming with creative energy right below the surface. Channel it into your relationship this month, and you might be surprised at how receptive your partner can be.
Scorpio
Feeling distracted by work, family, and life? Set aside time to realign that signature Scorpio intensity. Focus on romance in mid-October, and you could spark some red-hot flames by the end of the month.
Sagittarius
October is likely to start out hot and heavy for Sagittarians, but you'll need to take a breather by midmonth. Make sure your priorities are in order before devoting yourself to that serious romantic pursuit.
Capricorn
Capricorns are known for their focus and commitment, especially in love. This October, however, think twice before you play your hand. Check to be sure that romantic equation adds up before giving it all you've got.
Aquarius
Aquarians are likely to feel a bit of resistance in October, especially in the romantic realm. If love isn't flowing as freely as you think it should, dive deep into your relationship and discover what's stopping you.
Pisces
Before losing yourself in the business of the holiday season, October is the perfect time for Pisceans to enjoy a little introspection. Find out what you need to shine brightest in love, and indulge in all the self-care you need.
Curious to learn more about the secrets that this month holds? Get an astrology reading online for more insight into October's romantic potential.
Share This Page
---
Leave A Comment
You must be logged in to leave a comment. click here to login
Comments