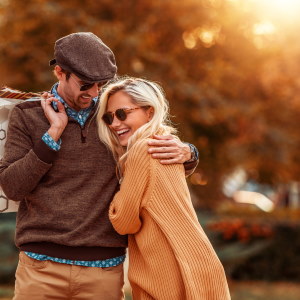 With a new moon and full moon in Libra this month, October 2021 will present many opportunities for love, particularly if you're single. Find out what your horoscope has in store for your relationships this month so you can prepare to make the most of it.
Aries
It's especially easy to fall in love right now, but it's important to stay mindful of who you're giving your heart to. Deep conversations with a potential partner may start to consume your evenings. These could lead to the partnership you've been looking for.
Taurus
You will be tempted by a short-term fling, but it's in your best interests to hold off. Getting involved in a casual romance right now could lead to serious consequences.
Gemini
Emotional relationships will deepen in October. If you're in a relationship, a much-needed vacation could take things to the next level.
Cancer
Your calendar is filling up quickly right now, and you're going to need plenty of independence to achieve your goals. Your partner may not be understanding at first, but clear communication can help resolve this issue after the first week of the month.
Leo
You may experience some conflict in your relationship or with a potential partner, but you'll find it's easier to handle when you stay lighthearted and apply plenty of humor to the situation.
Virgo
Those in a committed relationship will enjoy smooth sailing, but if you're single you should be careful about your affairs. You'll have the tendency to attract the wrong people throughout the month.
Libra
If you're single, expect to meet a new potential partner around the second week of October. If you're in a relationship, the last month may have been rocky. You'll regain your footing now.
Scorpio
You will meet new acquaintances this month, one of whom may become an exciting love interest. If you're in a relationship, be careful to balance your work and romantic life.
Sagittarius
If you're in a relationship, expect to make some compromises. Those who are single will meet a potential partner around the end of October.
Capricorn
The first week of October may be rocky, but relationships will smooth out shortly after. Singles will soon find new opportunities for love.
Aquarius
Singles will have fun with new love affairs. If you're in a relationship, you may experience some family conflict. Remain calm and ride out the storm.
Pisces
Love will find its way into your life in a powerful way if you're single. Those in a relationship will have some rocky moments at the beginning of the month, but things smooth over after the 17th.
For more personalized insights into your love life, consider speaking with a love psychic. These intuitives can help guide you in the right direction for a happy, fulfilling love life and provide information that's unique to your individual situation.
Share This Page
---
Leave A Comment
You must be logged in to leave a comment. click here to login
Comments