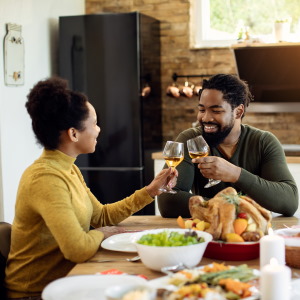 November 2021 delivers a powerful new moon on the fourth that will illuminate deep truths and reveal what has been hidden. As Venus moves into Capricorn, you'll get a practical look at your love life, helping you feel grounded (finally!) You'll find the insights you've been looking for, and the Full Moon on the 19th will help you manifest it. Read on for a more personalized outlook.
Aries
Singles can expect to find love during the second half of the month. Couples will enjoy a peaceful and harmonious period, and you'll feel comfortable sharing your feelings.
Taurus
Couples may experience a few bumps, but fret not! Things will smooth over. Singles are likely to find themselves totally immersed in their romantic pursuits. Both should exercise patience.
Gemini
If you're in a relationship, it's important to make time for your partner, even as work threatens to consume your time. Singles should watch for old flames to reignite.
Cancer
It's easy to get so consumed by the home life that you forget to go out, but socialization is important, especially if you're part of a couple. Singles should resist commitment until the last week of the month.
Leo
You're consumed by work this month. Make time for your partner around the 23rd so you don't lose them. If you're single, expect a magical encounter to woo you around the 17th.
Virgo
Though life will throw challenges your way at the beginning of November, those in a relationship will find their partners exceptionally supportive. Make sure to show your appreciation. If you're single, exercise caution through the middle of the month.
Libra
If you're in a relationship, now is the time to prioritize communication. Singles will be exceptionally alluring. Enjoy your freedom and don't tie yourself down yet.
Scorpio
You'll be faced with an important decision in your love life. Don't avoid this confrontation. Trust your gut — you've got this!
Sagittarius
November is full of surprises for the Sagittarius. Sit back and enjoy the delightful attentions that are raining down on you.
Capricorn
You may feel discontented at the beginning of the month, but you shouldn't act on this emotion. Ride it out and you'll enjoy sweet romantic encounters after the 14th.
Aquarius
You're feeling ready for a change. The time is ripe to seize the day and make that move you've been thinking about.
Pisces
Emotions are running high for you this month, and you're sure of what you want. It's time to step forward into the next stage of your love life. You're ready!
Are you itching for more insights into your love life? Navigating the complexities of romance right now is no joke. Tune in to the inner workings of the universe with the help of a psychic so you can make the right moves going forward and find the love you're looking for.
Share This Page
---
Leave A Comment
You must be logged in to leave a comment. click here to login
Comments