---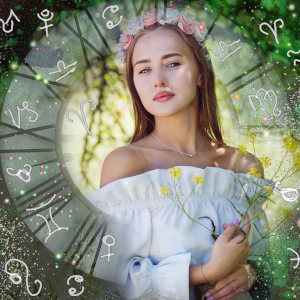 May is promising for every sign in the zodiac, though some will focus on inner growth while others find the focus on relationships. Learn how to nurture your love life best this month with a personalized look at your horoscope. Here's what you can expect in May.
Aries
April was a dry month for your relationship, Aries, but you can take heart now as things will heat up in May. The planets align for clear communication through the middle of the month, making this an ideal time to deepen your relationship or get to know someone new. Open up to others and share your insights. You're likely to discover something important. Trust your intuition regarding your love life, as this is a time for clear insights.
Taurus
Your relationship will bring you exciting new experiences this month. Prepare for your love life to take on a new meaning as it grows in a fresh and intriguing direction. You may have a trip or other travel experience in your future as well. If you're in a relationship, this is a prime opportunity to dive into new adventures together. If you're single, your trip may help you uncover a new opportunity for love.
Gemini
Money will be at the forefront of your mind this May, particularly as it relates to your relationship. This is a good time to reevaluate your budget if you and your partner have a joint account. If you keep your money separate, check in and make sure you're both comfortable with the situation. Those who are single should make sure their personal finances are in order so they're seeking a partner for companionship more than stability and security.
Cancer
The past few months have brought you great wisdom for your love life. Look back on recent events and consider the lessons they have taught you. Are you continuing to keep these points in mind as you chart the course of your love life? Stand up for yourself in your relationships and hold out for the situation that's right for you, whether with a current partner or a new romantic interest.
Leo
May is a month of love for Leo, both romantically and platonically. If you're single, keep your heart open and welcome new friendships. Don't jump into a romantic relationship with someone new. Rather, give your connections time to deepen slowly. If you're in a relationship, expect it to grow in significance as you enjoy a deeper appreciation for each other.
Virgo
This is a time to step back from the details of your daily life and look at the big picture, Virgo. Expect to uncover new insights regarding the direction that your love life will go in. Communicate with your partner to make sure you're looking at the same life map. If you're single, chart your course boldly and don't compromise for others.
Libra
Libras will have deep personal learning experiences in May. This is a time to focus inwardly on what you need for individual growth. Whether single or attached, nurture yourself so you'll be in a better place to nurture your relationship. Don't charge forward with your love life just now. Keep your focus on your own individual goals this month instead.
Scorpio
Indulge your playful nature this month, Scorpio. Expect to make lots of fun new memories and discover places or activities you're not familiar with. If you're single, expect a new relationship to bring some fun into your life. If you're in a relationship, take time for lighthearted dates that give you a chance to unwind together.
Sagittarius
Good news Sagittarius, May will be a rewarding month for you! Singles may uncover romance with someone in their networks. Those in a relationship should be mindful of thanking their significant others for the benefits they're bringing them this month. You have a lot going for you. Make sure you recognize and appreciate where it's coming from.
Capricorn
Capricorns will need to get ready for some learning experiences this month. Seek advice from those older and wiser to help you maintain or find a healthy relationship. The universe is calling you to find your mentor or guru for important lessons. Psychic love readings will give you particularly important information right now. You may also find yourself in the opposite role, offering valuable love advice to someone else. A change of scenery could help you achieve your romantic goals right now.
Aquarius
Though it will be difficult for the Aquarius, May calls for you to lower your defenses and allow yourself to become emotionally vulnerable. Opening yourself up and becoming more receptive will help you find the love that you're after, whether you're deepening your current relationship or seeking a new one. Dismantle your walls and trust the universe with your heart. Though it's tender, it won't get hurt right now.
Pisces
Get excited, Pisces, May is a month of blessings for you. This is the time to be thankful. If you're in a relationship, let your partner know how appreciative you are of everything that he or she brings into your life. If you're single, find peace and appreciation in where you are, trusting that great things are in store. Banish complaints and discontent at this time. The universe is serving you a buffet of opportunities. You simply need to grab a plate and enjoy what's being offered.
With your love horoscope in mind, you can take the best approach to romance this month. For more guidance, consider a love tarot reading with an experienced psychic to give you the personalized information you need to make the right choices for your love life this month. If you understand what's in the stars, you can turn your attentions in the right direction for a rich and satisfying experience this May.
Share This Page
---
Leave A Comment
You must be logged in to leave a comment. click here to login
Comments