Look Up! Rare 5 Planet Alignment - What Does It Mean To Us? by Psychic Seanna
Published Date 1/21/2016
Category: Astrology
---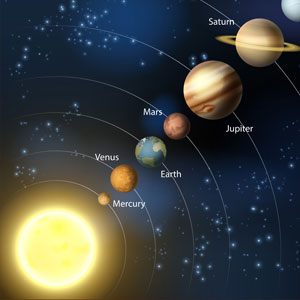 Get a Reading with Seanna x8165

Although this is a rare visual treat for us earthlings, astrologically there just isn't much significance to this particular event. Bet you never thought you'd read that! But let's break it down and see how you can best use the planetary energy to understand what IS going on astrologically for the next few weeks.

Mercury Rules how we Think, Speak, and what we Choose to Focus on Mentally.
On January 24th it will begin its journey out of retrograde. We'll start to see more forward motion in our lives and be able to make our ideas tangible. And because it's in Capricorn, this is likely to play out in the work/career area. I have several clients waiting to hear about jobs and this is when they'll get the offer (or in some cases, offers!). On Valentine's Day, Mercury changes signs, moving into eclectic Aquarius so do something really unique for your sweetheart!

Venus Rules our Values.
Yes, she's the planet of love, but in a deeper sense she's about how we love ourselves first, because everything we do is just an expression of that. As I write this, she's in Sagittarius, so we crave freedom, but also need to be mindful of overindulging in things that provide only a temporary comfort. Venus is in an astrological square to Jupiter, our inner philosopher and truth-seeker. In Virgo (and retrograde), Jupiter is about being honest with ourselves about our physical needs and aligning our actions with our knowledge. So this is a great time to start that new healthy lifestyle that shows love and respect for your body! Once Venus changes signs into Capricorn, you'll find it's much easier to follow through.

Mars is our Call to Action!
And in Scorpio, we can be a bit impatient or too aggressive when it comes to what we are passionate about. Keep your eye on the goal, but don't run all over everyone trying to get what you want. Be considerate -nurturing friendships and demonstrating loyalty will get you better results.

Old Man Saturn in Free-spirited Sagittarius.
Not his happiest place. But what we get is a message of staying grounded as we explore and experiment in new territories of our lives. Think big, but take baby steps to make sure you're not missing important lessons on the journey. The payoff is much sweeter that way.

I do love these astronomical events (which are different than astrological, the two are often confused) because they get everyone looking to the sky and at least thinking "is there more out there?" The actual alignment is merely a lovely sight to see. But as more people look to the heavens and enjoy this precious moment in time in the sky, perhaps they'll make a special connection with themselves. And perhaps, whether you know anything about Astrology or not, you will be able to soak in a deeper understanding of our relationship to the cosmic realm and realize that we are all connected.
Share This Page
---
Leave A Comment
You must be logged in to leave a comment. click here to login
Comments