---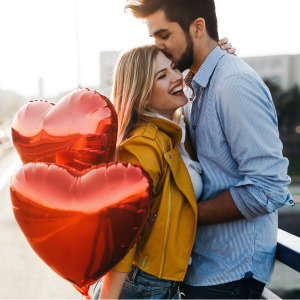 Venus enters Aquarius at the beginning of February 2021, which will create a strong desire for independence. Remember that you don't have to give up your freedom for a relationship. This month is all about finding the right balance between yourself and your partnership so you can succeed in both. Around the 25th, Venus will move into Pisces, creating an air of seduction that will draw you closer to someone.
Ready to learn more? These horoscopes will give you some brief insights into what you can expect in your love life this February based on your zodiac sign.
Aries
Expect a career-focused month with little time for love. This may cause some complications in your personal life, but you can resolve these with honesty and communication.
Taurus
Venus is opening new doors for you. Welcome the warmth of close personal relationships with family, friends, and your current or potential partner. February's new beginnings will bear fruit in about six months.
Gemini
Take risks, Gemini! Venus offers great rewards this month to those who are willing to step out and grab them.
Cancer
Take some time to reflect on your personal values this month. Jupiter will help you achieve your desires in your love life as long as you're mindful to define these goals clearly.
Leo
Uranus gives your life a distinctly social boost this month. As you're charging ahead, you may trip over some misunderstandings, so be careful in your communications.
Virgo
You'll find many opportunities for romance this month, but you should be mindful about which ones you accept. Don't overspend on your partner. Money doesn't matter as much as you might think.
Libra
This month is all about career for you. Keep your dating limited, as this is not the time to spark a new romance. If you're in a relationship, let your partner know you may have less availability through February but will make up for it later.
Scorpio
Venus, Uranus, and Neptune are all playing a part in your relationships this month so things will get exciting. Make time for self-care and don't get too swept up in the action.
Sagittarius
February is the perfect time for you to focus on your love life, Sagittarius. Shower your partner with attention. If you're single, treat yourself well and the right person will find you.
Capricorn
Now is the time to address the lingering concerns you've had in your love life. Be open and honest and you'll get the right answers.
Aquarius
Avoid social gatherings this month as you may become the subject of some gossip. Spend time alone with someone special.
Pisces
Expect an important relationship to move to the next level. Be wary of temptations that could get in the way of the person who matters most.
For more insights into your personal horoscope, consider getting an astrology reading that's tailored to your own unique chart.
Share This Page
---
Leave A Comment
You must be logged in to leave a comment. click here to login
Comments